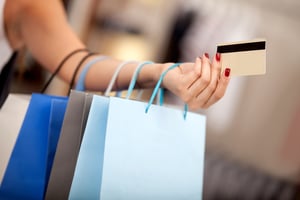 The biggest shopping season of the year is upon us, folks, and it'll be here before we know it! Black Friday is notorious for being the reason most retailers either stay afloat or increase in profitability. Given the evolution of technology, Black Friday isn't quite what it used to be. Here are some of the differences between the Traditional Black Friday and the New Black Friday.
Let's Cover Some of the Connotations Associated with the "Traditional Black Friday".
It's considered "THE" shopping day of the year
Stores hire a seasonal or temporary workforce
It's a tradition that gets everyone excited for the holidays
Countless deals and sales
More inventory means more purchases
These are reasons why the retail industry loves this time of the year. For businesses that have flat sales cycles in the spring and summer seasons, Black Friday shoppers are their saving grace, pulling retailers out of the retail dead zone. But this expectation won't be feasible for much longer. This "tradition" runs the risk of losing its charm because consumers:
Have a plethora of retail options (especially online)
Don't have to spend hours waiting in lines anymore
Can do it in the comfort of their own homes (or anywhere in the world)
What Does the "New Black Friday" Mean to Consumers Today?
It's considered the WORST shopping day of the year
Tight labor markets may find retailers understaffed.
Today there are many different popular shopping days to choose from
A personalized shopping experience is NOW the top priority (not necessarily sales)
The greater the EXPERIENCE, the greater the purchases

This once popular shopping "day" is losing its mystique and significance. So how can retailers overcome this? By delighting their customers with a seamless shopping experience and following the consumers' behavior.
Tracking consumer behavior and updating your stores with the latest customer experience retail technology will bring your business up to speed and in time for shoppers during this holiday season. For more insight on The New Black Friday, check out our most recent eBook 5 Things Retailers Should Know.
.