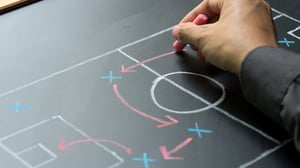 Now that we've explored the transformational potential for interactive technologies in specialty retail environments, as you prepare to deploy, we'll consider some of the critical success factors that can help position you for maximum success.
1) Have Content Ready
One of the most common mistakes retailers make when deploying interactive solutions is failure to realize the volume of content needed to power the interactive engine. From videos to in-depth product information and curated content, a variety of content types are needed on an ongoing basis. In many cases, specialty retailers will deploy a large-scale video wall, for example, but fail to anticipate the volume of video content needed or the resources required to keep the experience fresh and enriching. It's best to estimate the volume of content needed, how you will source it, and the budget available prior to deployment. Even a simple month-by-month editorial calendar can be helpful for planning. Be sure to secure sufficient budget and resources to produce the required content in order to ensure a more successful deployment and maximize ROI on your interactive technologies.
2) Plan and Budget Based On What You Need
Another common mistake is for retailers to desire the "champagne" interactive experience on the "beer" budget. Emerging technologies can require a significant investment and it is unrealistic to think that these will be the only IT investments required. It is helpful to start with an available budget in mind and then prioritize investments in interactive according to the budget dollars available. Consider rolling out enhanced capabilities over a period of quarters or even years, depending on ROI and changing market conditions. In some cases, retailers will dive into a project with insufficient budget, compromising on infrastructure or content budget, or even failing to achieve full deployment, all of which can undermine the future success of the project.
3) Conduct a Pilot
Any deployment of a new technology benefits from a pilot. When rolling out interactive technologies, select a few locations. This allows you and your integration partners to identify challenges, best practices, realistic timeframes and design a better deployment plan for large-scale, nationwide roll-out. Lessons learned can mean the difference between on-time deployment and extensive delays. It can mean the difference between unexpected budget overages and on-budget roll-out. Take advantage of the opportunity to learn the best way to deploy interactive by conducting a pilot.
With your interactive game-plan in hand, you can successfully transform your store and your customers' experience into an enriching, one-of-a-kind visit that keeps traffic coming through the door.