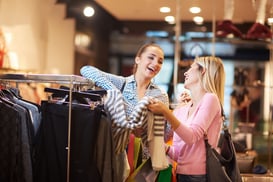 The landscape for specialty retailers is more competitive than ever. In an age when consumers enjoy the convenience of finding anything and everything from the comfort of their homes or offices, trips to the mall are optional, leaving many specialty retailers out in the cold. While some specialty retailers are closing their doors, others are actually growing and thriving during this digital transformation.
What's the key to their success? In many cases, it's the ability to create compelling experiences for consumers. That's where interactive technologies come in. The specialty retail game is no longer about having inventory and opening the doors. In today's environment, successful specialty retailers leverage interactive technologies that engage the five senses, deliver a compelling in-store experience, and connect with shoppers in memorable ways. Here are 4 ways that interactive technologies help specialty retailers achieve staying power in an ultra-competitive environment.
1. Transform Your Brand Into a Valued Resource
Interactive technologies make it possible to deliver more information, faster, in more engaging ways than ever before. With technology, retailers can deliver information that is related to, but not exclusively focused on their products. For example, consider an athletic store that lists all the running events coming up in the local area. Or a nutritional store may provide tips on combating allergies during a particularly high-pollen day. Accessing current data sets such as the weather, traffic, local happenings and more, retailers can deliver valuable, relevant and timely information to shoppers in the store. This positions them as a valued resource for information in addition to a provider of merchandise.
2. Deliver Memorable Experiences to Your Shoppers
Augmented and virtual reality add an extra dimension to shoppers' interaction with merchandise. They can try out the latest ski apparel while standing at the top of a mountain peak with virtual reality. They can actually see that particular love-seat, lamp or carpet in their very own living room with the help of a mobile app. The possibilities with augmented reality are virtually endless and add an experiential aspect to the in-store visit.
3. Provide Valuable Data to "Know" Your Customer
From cameras that track glance times in front of products to digital signage implementations that track inventory on display or traffic patterns throughout the store, interactive technologies collect data in ways that were never possible before. This data provides a unique opportunity to understand and dissect your customer base in very detailed and meaningful ways. With these insights, it's possible to maximize every inch of the store to better meet your customers' needs. Whether it's assigning associates to trade out sizes while shoppers are in the dressing room, reorganizing the store to locate accessories closer to key apparel, or delivering personalized at-the-shelf coupons to convert a consideration into a sale, data gives you the insight to know what's effective.
4. Differentiate Your Brand
What words come to your customers' minds when they think of your brand? If your business is going to thrive, your customers need to connect with your brand in personal, meaningful ways. With interactive, you can serve up very personalized content to your customers on each visit. Using loyalty programs, beacon technology and AI, you can know your customer and make them feel known. Think about technology that empowers your associates to approach and greet customers entering the store on a first-name basis. The use of kiosks to deliver the latest information related to your customer and educate them on which product is correct for their needs. These types of interactions are meaningful and leave shoppers with a warm, fuzzy feeling about your brand, increasing their likelihood of returning.
The potential to use interactive technologies to differentiate your store is virtually endless. Get creative with ideas about how it could improve the in-store experience for your customers.