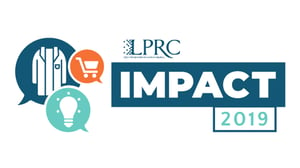 "Trust" is not exactly the first word that comes to mind when you think of loss prevention (LP). Yet trust was the theme and a major talking point at LPRC Impact this year.
This LPRC Impact conference looks at trust through the lens of the consumer. Shoppers need to trust that the retailer will have the items they need, when they need it, and that they will be safe on the premises. They also want to trust that their financial and personal data will be responsibly and securely held by the retailer.
But as the conference rolled on, it became clear that trust is critical, not only in the consumer/retailer relationship, but also in a host of other relationships that make up the retail network.
Intra-Industry Trust
The LPRC has launched a new virtual reality lab that allows retailers to test technologies, processes and procedures in a virtual retail environment without disrupting their own retail operations. This allows them to build confidence and trust in the innovative technologies and processes they are developing to combat loss. In addition, the entire LPRC organization and Impact Conference encourage sharing of ideas and best practices among retailers who compete for consumer dollars. The first step in trust is agreeing that the entire industry is in a war against loss.
Employer/Employee Trust
In one fascinating presentation, the LPRC interviewed several retail employees who admitted to theft. Overwhelmingly, these offenders stated that they decided to perpetrate the crime when they felt that their employer stopped showing them respect and trust. The people who work in your retail organization want to feel valued, appreciated and part of the team. When retailers fail to recognize the importance of the quality of their relationships with their employees and the value of mutual trust, they run a risk of creating new sources of loss.
Inter-Departmental Trust
Without trust and collaboration between different functional areas within retail, successful integration of complex technologies is impossible. In order for teams, say operations and marketing or LP and operations, to jointly deploy a critical technology, they must trust one another and work together. These groups may be sharing budget, co-presenting the case for approval and sharing data once the technology is deployed. If an "I win/you lose" mentality is in play, the results will be disastrous. Success requires stakeholders to truly collaborate and trust one another.
Integrator/Retailer Trust
In a world where technological innovation is occurring at an unstoppable pace, it's impossible for individuals or teams to be true experts on every type of technology, device or process. To continue to manage a brave new world of technology, retailers must select trusted technology partners who can provide specific technology expertise, best practice insights and technological know-how to ensure successful integration of technologies.
In an increasingly complex world, overwhelmed with information, technology and multiple stakeholders, establishing trust is both more complicated and more important than ever. Retailers should take time to evaluate the trustworthiness of all their relationships as a starting point for achieving their goals.