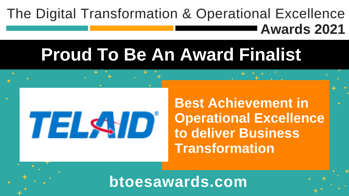 This week, I'm headed to Orlando, Florida for the Digital Transformation Operational Excellence (DTOE) Awards ceremony. Telaid was named a finalist in the category, Best Achievement in Operational Excellence to deliver Business Transformation. We're in good company alongside companies including IBM, Shell, Blue Cross Blue Shield and Royal Caribbean and I'm excited to attend this event, learn how others are leveraging the power of technology to transform their operations, and share our story.
In case you weren't aware, between 2019 and 2021, Telaid undertook a bold initiative to digitize our back-end processes to achieve operational excellence for business transformation. We needed systems that would support precision project management and accommodate our aggressive growth goals while also ensuring exceptional customer service and last-mile delivery.
With the help of the "Transformation Team," Telaid's senior leadership team, some external consultants and all employees at Telaid, we successfully planned and executed a multi-million-dollar, multi-annual investment to fully digitize our end-to-end client onboarding, project execution, and service delivery processes.
The results have been truly transformational:
We've transitioned 90% of all systems to cloud-based platforms and enhanced the customer experience.
We've increased on time arrivals of field service technicians to 94.4% and experienced a decline in escalations and trouble tickets. Telaid's extremely aggressive definition of a "late" is when a field technician shows up on the scheduled site more than two minutes after the prescribed time. (Industry average definition is 15 minutes.)

In some cases, the new Telaid system architecture has eliminated 100% of manual touchpoints, reducing time-consuming calls and emails.
You can explore the complete story and results in an infographic I'll be presenting at the DTOE Awards event.
Whether or not we bring home the trophy from the DTOE Awards, we are already winners. This digital operations transformation project demonstrates the power of technology to advance business objectives: the precise value we add to our own customers' businesses. Cheers to Telaid and to more exciting accomplishments to come in 2022 and beyond!