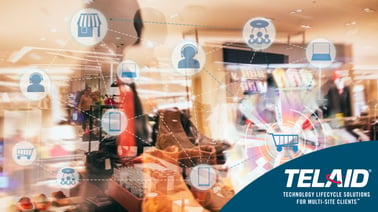 Retailers are dealing with a host of challenges this holiday season, inviting them yet again, to lead with innovation and creativity. From supply chain disruptions to labor shortages, inflation and dramatic shifts in consumer buying patterns, pressure is mounting on retailers and catalyzing dramatic change.
Based on success stories from our own customers and insights into emerging technologies, here are some recommendations for retailers striving to transform the customer experience and their operations in an uncertain environment.
Streamline with technology – In a world of labor shortages, omnichannel orders, logistics and reverse logistics, automation is critical for embracing precision and speed in retail operations. From frictionless payments that reduce errors and enhance the customer experience, to AI applications that forecast and address out-of-stocks, automation of back-end operations is crucial for long-term success.
Make the store an experience – As consumers embrace the convenience of online shopping and BOPIS, footfall in stores has been on the decline. Consumers must have a reason to come into the store and savvy retailers are giving shoppers an experience that makes it worth the trip. From community-building activities to in-store events and personal VR experiences, make your in-store environment worth the visit for consumers.
Prioritize security – The hazards that can impact retail range from natural disasters to organized retail crime, violence, cybersecurity breaches, employee theft and more. In an increasingly volatile world, retailers must prioritize safety and security for their employees and patrons alike. Using integrated physical security solutions can help.

Focus on your weakest link

– True omnichannel retail involves a vexing level of complexity and flawless operations. It's challenging to deliver customer service on all fronts – from personalized in-store visits to timely curbside and accurate delivery. Retailers should focus on their weakest link to improve their overall service to the customer. One example is a food service brand that needed to speed its drive-thru service. By focusing on the weakest link, retailers can raise their overall level of service.
As you formulate your technology budget and priorities for 2022, contact Telaid to explore the latest technologies, understand how other retailers have overcome their challenges and develop a plan for implementation.