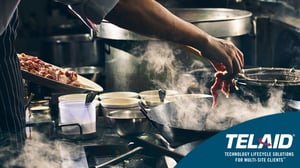 From dark stores in retail to ghost kitchens in foodservice, COVID-19 has accelerated the growth of operational facilities designed to deliver exclusively on online orders. In the face of dining room closures and stay-at-home mandates, ghost kitchens are emerging.

Restaurant chains are only beginning to explore the potential for ghost kitchens to achieve:

business continuity in the face of continued shutdowns
flexibility to launch new restaurant concepts from a single location
more agile operations to meet the growing demand for curbside pick-up and delivery of orders placed online
increased revenue and reduced costs associated with on-location dining.
As chains prepare to convert existing dining spaces or invest in new kitchen facilities, here are some technologies that can be instrumental in creating the most efficient, cost effective ghost kitchen possible.
Interactive – Interactive technologies including audio, large multi-media displays and touchscreen kiosks all have enormous value for delivering clear communications and directed self-service. Providing clear communications such as instructing delivery people on where to pick up their orders, or helping kitchen staff queue, package and prepare orders for pick-up, interactive technologies facilitate streamlined operations.
AI – AI has the potential to shortcut the learning curve for foodservice brands that are striving to launch new concepts out of ghost kitchens. Connected with customer-facing digital technologies, AI can help restaurateurs quickly identify menu items of interest, peak hours for ordering, surges in demand related to local events, day of the week or other factors. Since time is of the essence for many of these restaurants, AI can prove an invaluable investment for quickly and accurately assessing the landscape and most successful concepts.
Infrastructure - Supporting infrastructure is critical to reducing risk of unplanned downtime, device performance failure and/or system outages. As ghost kitchens add innovative technologies to streamline operations, it's essential that they have the infrastructure in place to properly support these expansions.
Automation – Streamlined operations make for greater profitability and an increased ability to deliver better, quicker service. Automation is essential to supporting the fundamental ghost kitchen theory that restaurants can capture more diners with less labor and more streamlined operations. Automation may include systematizing back-end operations such as receiving and order prep or even food preparation.
Ghost kitchens benefit from a flexibility and lower costs that are seemingly critical to success in the age of COVID-19. Explore the potential for retail technologies to support your success.