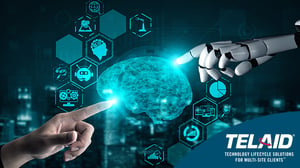 As they say, "Necessity is the mother of invention." The events of 2020 have pressured businesses in every industry to change their business models, reengineer the customer experience, and generally meet unprecedented change in demands. RIS News recently released Meeting Adversity with Data, a retail and consumer goods analytics study. Many companies are seeing all the ways that AI could have been used to help them navigate the tumultuous waters of 2020 with more efficiency and success. As retailers accelerate their adoption of AI, here are some things IT teams can do in 2020 to make for a smooth transition.
Prioritize systems integration
The systems that feed AI with data ultimately determine the quality and depth of the resulting AI information. This means that the more systems that are integrated and used to "train" the AI engine, the richer the resulting data will be. As an example, using AI with exclusively POS data may be valuable, but combining POS data with video from surveillance systems, and data from queueing software and access control is even more insightful. Systems integration, while getting easier thanks to IP technologies, is still not a simple endeavor. Proprietary operating systems and incompatible software solutions can make seamless integration a challenge. As you deploy, upgrade or service technologies, work with your technology partner to ensure systems integration opportunities are maximized. Moving to cloud-based solutions can also enhance accessibility and integration.
Take advantage of the times
With new information driving so much change, it's a great time to evaluate which kinds of information are useful and why. Sometimes when the landscape is calm and predictable, assumptions are enough to carry you through day-to-day business decisions. But conditions in 2020 have turned businesses upside down and no assumption is sacred. When new conditions abound, retailers can see what information is truly critical to their ability to deliver.
Is supply chain disruption causing lots of pain? How could you use AI to shore up visibility in the supply chain?
Are customers shopping in unpredictable patterns? What type of information about consumer shopping habits would allow you to better serve customers?
Is your product planning way off? How could you use consumer data or POS data to better predict demand and plan inventory?
Understanding the types of information that are most valuable will improve your planning down the road.
Prepare your infrastructure
Infrastructure solutions are emerging with great speed. From power over ethernet (PoE) to Wi-Fi 6 to Cat8 cable, options for transferring power and data are advancing to accommodate emerging technologies. While widespread adoption of cat8 is still aspirational, Wi-Fi 6 coupled with Cat6a cable supports higher throughput and data rates for better connectivity and performance.
Now may be a good time to evaluate your current infrastructure in light of the technologies you will be deploying over the coming months and years. Tap the expertise of a BICSI-certified installer who specializes in the latest and greatest when it comes to advanced cabling options.
With nearly half (47%) of retailers indicating that they are lagging industry leaders in their analytic strategy and tools, there are some important advancements to be made to pave the way for AI. Telaid can help you plan, procure and deploy the foundation for the AI applications of your dreams. Contact us to start a conversation.