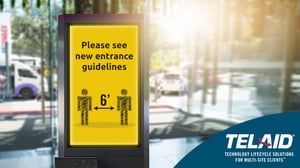 Long valued for their marketing and advertising value, interactive technologies in retail, healthcare, QSR and financial services are now taking on an entirely new role in the age of COVID-19.
Interactive technologies are shifting from marketing/advertising to critical communications tools to reduce customer frustration, provide clear communications and manage uncertainty in the strange events of 2020.
Digital signage is used in healthcare to give important instructions.
Healthcare locations are using digital signage inside and outside the building to provide patient instructions and expected wait times for COVID-19 testing. This helps reduce apprehension among visitors, increases efficient management of the line and improves traffic flow.
In the midst of uncertainty, the first step for businesses to attract customers is to communicate if and under what conditions they are open.
With businesses closing as a result of COVID-19 and civil unrest in some areas, outdoor digital signage previously used to announce promotions is being used to communicate status.
Is the business open or closed?
Is the restaurant offering dine-in service or just curbside pick-up or delivery?
Is the hospital accepting COVID-19 patients or diverting them to another location?
Inside retail stores, digital displays in the aisles now carry critical messaging as opposed to advertising.
The ability to note out-of-stocks and expected restock timeframes reduces customer frustration. By clearly identifying items with purchase limits in the aisle, customers can avoid the frustration of reaching the point of sale and then having cashiers ask them to return items due to quantity limits.
Don't expect to always hear your favorite tune while shopping anymore, audio is being used for critical announcements.
Instead of playing overhead "mood music" or promotional announcements, overhead audio is being used to repeat important information regarding new instructions, occupancy limits, new policies or procedures. This assists in managing traffic flow in the building and also reduces the need for employees to repeat critical information time and time again.
Self-serve kiosks reduce contact during transactions.
Interactive kiosks enable self check-in to minimize contact between customers and employees to reduce transmission risks. These kiosks can also be used to deliver important information and instructions.
Invest in technologies that are scalable and flexible for times such as these.
Many organizations had interactive technologies in place prior to 2020 and enjoyed the flexibility of adjusting content to meet the pressing needs of current events. Others were able to add to their existing interactive technologies to expand their systems.
The events of 2020 have demonstrated the value and flexibility of interactive technologies in the face of unexpected scenarios. This lesson applies across the board, from contactless POS to customer analytics.