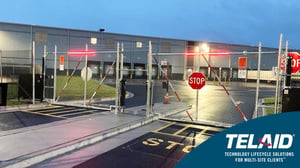 Business challenges come in all shapes and sizes. Often, companies will employ typical solutions and consider the results "as good as it gets," even if there are still outstanding issues.
At Telaid, we start with the business objective in mind and craft technology solutions that achieve those business objectives. When the go-to standard is not good enough, or does not meet the needs of a particular project, we keep looking until we find a solution that does meet the business objectives.
When a particular retailer experienced back-ups at their distribution center (DC) located in a major metropolitan area, trucks backed up on the nearby road, causing traffic problems and even fines. Long queues characterized the experience for delivery trucks arriving to unload inventory at the DC. A long-time technology solution partner to this retailer, Telaid attended meetings where they continued to discuss this problem.
Telaid volunteered to undertake the herculean task of investigating solutions. Telaid was patient and persistent in their attempt to identify a solution. Beginning with a list of business objectives in mind, Telaid understood that the solution would need to streamline entrance and exit of delivery trucks. In addition, the solution would need to maintain perimeter security and not break the bank. Telaid researched a range of solutions before discovering AutoGate, a leading manufacturer of Vertical Pivot Gate Systems. After an extensive evaluation and pilot, this solution is slated for deployment at several other DCs. We invite you to read the full case study and the results the retailer has seen.
Through this case study, you'll discover that the secret to overcoming business challenges is dogged persistence and a willingness to consider solutions beyond the obvious. As you grapple with business challenges that seem impossible to overcome, we invite you to call our experts for a new perspective and years of experience.