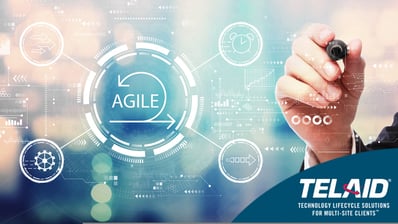 Agility is more important than ever when it comes to operating in an ever-changing landscape. The COVID-19 pandemic put businesses to the test and performance varied widely across the retail and restaurant segments. While some of the performance can be attributed to surging demand for specific items, other critical success factors were based on companies' abilities to embrace and quickly enact change, respond to market demands and modify their value propositions to meet emerging needs. In short, those companies that demonstrated agility were able to overcome challenges and position themselves for success amid unpredictable conditions.
Given the speed of business today, agility will be critical to companies' survival moving forward. Here are four characteristics of agile businesses.
Supply chain visibility – Agile companies have agile supply chains. They leverage technology to gain true visibility into their supply chains, understanding supplier performance challenges, vulnerabilities and operations. With greater visibility, companies can see disruptions before they occur and compensate or prepare. Savvy companies also have a diversified list of vendors so that supplies are not completely halted in case of unexpected supply chain disruptions such as natural disasters, weather events, raw material shortages, country policy changes, etc.


Strong omnichannel presence – Global pandemic resulted in the unexpected and extended closure of buildings and operations in many cases. The seismic shift from in-store shopping to online shopping or curbside pick-up put retailers and restaurants to the test in their ability to shift to omnichannel order and delivery. Agility required those businesses to quickly and effectively shift their operations to accommodate all-online orders and multi-channel delivery. Those with critical technologies and capabilities already in place fared the best.


Customer communications – Agility requires businesses to understand changing needs, accommodate customer preferences, and communicate with customers about everything from new hours of operation, new safety measures and protocols, to product purchase limits. In order to effectively do this, businesses need access to their customers, data about customer preferences, established channels for communications, and a reputation that consumers trust.


Automation – Whether resources were limited or if employees were stretched thin due to surging demand, companies that had some level of automation in place had an advantage during the pandemic. From simple digital signage to handle communication with customers without burdening employees, to automated traffic management systems that enable compliance with occupancy limits, or package robots that helped customers access their orders without employee assistance, automation technologies magnify the workforce and ease pressure during volatile times.
Evaluate your own organization against these four characteristics of agile business. It's not too late to invest in processes and technologies to get up to speed in preparation for the next unexpected event. Investments in agility help your business to thrive in whatever conditions may present themselves. Let Telaid help you achieve agility in your business.