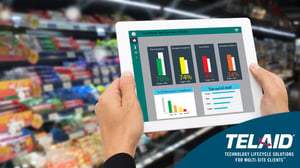 As we welcome 2021, a bright new horizon lies ahead for retail alongside lots of freshly learned lessons from 2020. A catalyst unlike quite any other in history, the COVID-19 pandemic accelerated the transformation of consumer buying behaviors and technology usage like never before. While retail was already on a path to digital transformation, global events accelerated things by an estimated 7 years.
Based on the stunning scope of change in retail in 2020, NRF explores their projections for trends that will endure through 2021 and other trends that will emerge in the new year in Retail in 2021: What will endure and what's going to change?
It's an interesting list that envisions the evolving shape of retail in an era of new shoppers and true omnichannel delivery. The trends on the list require the kind of agility and data access that many retailers are still striving to achieve. When delivering everything from reverse logistics to subscription payment options and omnichannel shopping, retailers need technology systems that deliver precision, real-time data in accessible ways to a variety of users. With so many technology solutions available, it can be a daunting task to identify, deploy and integrate multiple technologies. Here are some tips for retailers as they navigate these complexities:
Start with your vision – Don't just engage in "me too" technology deployments. Start with your business objectives and then prioritize technologies based on your vision for serving customers and streamlining operations.
Access resources – 2020 has called on retailers to implement an unthinkable number of changes in an urgent timeframe. This is simply impossible with limited internal resources. Select qualified, dependable partners to help you vet critical technologies and plan for successful, scalable deployment.
Listen carefully to your customers – Customers are the lifeblood of your business. Your ability to survive and thrive in a new era depends on your willingness to listen to customer feedback and respond with experiences that meet their needs. Whether customers find your safety protocols insufficient for safe shopping during a pandemic, or if they demand a more personalized customer experience or hassle-free returns, it's essential that you take this feedback into consideration as you plan for 2021 and beyond.
Don't miss the opportunity to explore these fascinating projections from NRF. When you're ready to start planning and deploying, contact us for comprehensive technology solutions and ongoing support. Cheers to 2021!