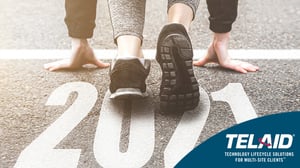 As the year draws to a close, we can't help but reflect on both the good and bad that has come out of this very strange year. Confronted with unexpected new challenges presented by a global pandemic, we helped our customers reconfigure operations for double-digit growth in curbside and delivery, upgrade to contactless technologies and deploy interactive technologies to communicate with consumers. We overcame field labor challenges due to illness and reconfigured our own operation to accommodate remote working. None of this was easy, but we learned a lot and know that both Telaid and our customers' businesses are stronger and more agile as a result.
Here are three overarching "lessons learned" based on our work with clients in 2020.
Technology is critical to survival – Technology is critical to survival in quickly evolving times. This point was clearly made in the midst of COVID-19.
Consumers are changing - From contactless payment to interactive communication technologies, consumers have become increasingly comfortable with kiosks, mobile payments and digital signage.
Go omnichannel or go home – Never before has there been such a dramatic and sudden shift in the ways people live, shop and work. Agility to perform in multiple channels is critical.
As we close in on the last few days of 2020, our sights turn toward 2021. Based on what we've seen in 2020, we predict that 2021 will be another year of significant change and advancements with the following trends guiding decision-making.
Expect the unexpected – Based on the shock delivered by COVID-19, companies will be focused from here on out on expecting the unexpected. Systems that support contingency planning, redundancy and agility will be prioritized.
Move to robotics – Automation will be key to unlocking the next level of efficiency. From back-of-the-house automation to front end customer service, we expect robotics to take on new life.
Increased collaboration – 2020 was the year of collaboration with healthcare, pharmaceutical companies, private enterprises and common citizens jumping in on the fight against COVID-19. Increasingly, companies will desire greater levels of problem-solving collaboration with their partners and providers.
We look forward to the next chapter in technology advancement and are hopeful for a truly game-changing 2021. Happy New Year!