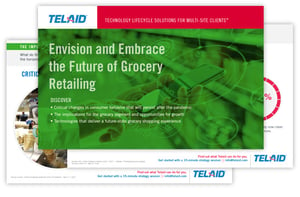 A lot has changed in 2020. The grocery segment has prospered significantly during the pandemic with consumers restricted to their homes, restaurants closed and more people cooking from home.
Grocery sales experienced 30% growth year over year, from March 2019 to March 2020. Since then, even more change has emerged as consumers moved online for their grocery shopping instead of visiting stores in person.
Fueled by the events of 2020, U.S. online grocery sales are expected to surge about 40% this year, according to a study from Coresight Research.
New local mandates have changed the rules of engagement, imposing mask-wearing and occupancy limits, challenging grocers to undertake new operational challenges. Meanwhile, consumer preferences are pushing retailers to adopt frictionless checkout and streamlined curbside service to reduce the risk of disease transmission.
The year 2020 has challenged grocers to reinvent their operations to accommodate an astounding number of changes and to earn customer loyalty, which will be essential to their success in 2021 and beyond.
While this may seem somewhat daunting to grocers, the good news is that there is tremendous opportunity to become an essential resource to your loyal customers and to earn their trust and dollars now and in the future.
Telaid's newest resource, Envision and Embrace the Future of Grocery Retailing, explores the speed and breadth of changes taking place, the critical technologies needed to deliver a future-state grocery shopping experience, and strategies to advance every aspect of their business.
Download the eBook today as you prepare to strategize for 2021 and beyond.