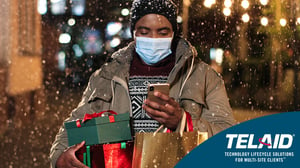 It's no surprise that holiday shopping this year looks different than ever before. While online shopping has been surging over the past few years and retailers have noted a reduction in foot traffic on what used to be the single biggest shopping day of the year, the global pandemic accelerated the shift to a new normal for holiday shopping. And while the economy has taken a hit due to COVID-19, the National Retail Federation projects that retail holiday sales this year will actually come in at 3.6 – 5.2% higher than last year.
The National Retail Federation projects that retail holiday sales this year will actually come in at

3.6 – 5.2%

higher than last year.
The lessons for retailers are:
1. Change is on the way
2. No one is exactly sure what it will look like
3. It's coming faster than you anticipated
Here are some of the changes incited by 2020.
Socially distanced – Just like social distancing in stores has created "space" between shoppers, spreading out traffic throughout the day and reducing large crowds in stores through occupancy limits, online shopping has also "spread out." In light of limited inventory and shortages of some items, many consumers began their holiday shopping early.
According to a survey from LendingTree, 25% of consumers reported finishing their holiday shopping in early October.
The National Retail Federation promoted a "Shop safe, shop early" campaign, touting the benefits of early online and in-store shopping. This trend could incite long term changes in consumer behaviors and in retailers' need to be prepared for holiday shoppers long before Black Friday in the coming years.

Omnichannel in the mix – The lines between Black Friday and Cyber Monday continue to blur.
An estimated 67% of consumers plan to use some mix of online and in-store shopping to complete their holiday shopping.
The surge in BOPIS, click-and-collect and curbside service demonstrates that consumers want to shop on their terms. While executing on BOPIS may seem obvious, in reality it is difficult to do in a way that is convenient, accurate and comfortable for customers.
Make sure you have the right technology, processes and people in place to execute with efficiency. Use this holiday shopping season, already in progress, to pinpoint areas where improvements can be made.
Logistics is king – With the growth of online ordering, retailers should be prepared to handle exchanges, returns, cross-store shipments and customer service concerns. This requires having real time, accurate data on everything from orders, shipping, inventory location and volume and POS data. Integrated systems make this easiest. In a retail world dominated by the likes of Amazon, this instant access to data is no longer a differentiator, but an entry qualifier. Check out the components of a Connected Store.
This holiday season is unlike any other, but it likely points to critical success factors as we move into 2021. Use this time to make your own "wish list" for critical technologies and prioritize it as you plan for the year ahead.