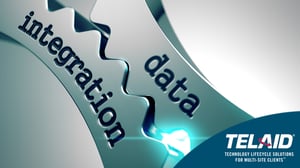 You may not have experienced it yet, but true systems integration with your technology partner is a game-changer. Like many of our large customers, Telaid uses ServiceNow to manage our field service labor, track assets, manage projects and handle service tickets. Whether you are using ServiceNow or some other enterprise platform for your IT tickets or asset management, our in-house IT project management and software development team can quickly connect your enterprise system to our own using APIs.
By collaborating via ServiceNow, you can streamline workflows and increase your support team's capacity. Consider the possibilities:
Asset management – With an upcoming expanded client program portal hosted on Telaid's ServiceNow Platform, you will have visibility into real time data of your assets warehoused, repaired or shipped from Telaid's Technology Solutions Center. Notify us via ServiceNow when a device is inbound for a single consolidated source of information on the whereabouts and status of all your devices.

Help desk – Rather than copying help desk tickets from your system, creating an email or logging them into a spreadsheet, add Telaid to your roles in your enterprise platform to allow us to automatically receive the ticket and report status back within the platform.

Service requests - Submit service requests, move add change tickets and ad hoc requests to Telaid via your ServiceNow incident management module for easy status tracking and consolidated reporting. Eliminate 100% of service request emails and improve the visibility of all service requests with real time, shared updates down to specific project sites.

Improve system or overall ROI – Through experience and client mutual discovery sessions, Telaid has generated innovative ideas and solutions from tactical process improvements and capacity gains to optimized workflows. Engage with Telaid on a mutual platform and business workflow discovery session to realize greater shared efficiency gains. This can also improve the overall ROI of your enterprise platform investment.

Telaid has the experience and a proven process to achieve the numerous benefits of connecting enterprise platforms outlined above.

It's a small investment of time to improve service KPIs, reduce administrative tasks and achieve faster service resolution. Together, we can achieve greater efficiency and more cost savings than ever! Contact us to explore the possibilities.