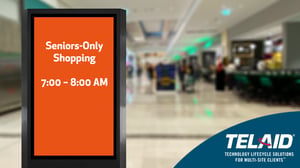 From large format digital signage outside stores to overhead audio and small touchscreens displays at checkout, interactive technologies have taken on a new role in retail environments over the past year.
The COVID-19 pandemic has changed everything from consumer shopping patterns to health and safety guidelines as well as delivery channels. These changes have elevated the importance and prevalence of interactive technologies across multiple segments of retail, from grocery to big box, quick serve restaurants and pharmacy.
As retailers invest in and/or repurpose existing interactive technologies, here are some of the ways retailers are using interactive to deliver an optimal customer experienced during the global pandemic.
To deliver a safer in-store experience – With new information about the transmission of COVID-19 coming out on a daily or weekly basis, digital signage allows retailers to update their policies, procedures and instructions in real time. Whether advising employees of new rules of engagement or advising shoppers about a mask mandate, the ability to display information in a contactless but effective way has made digital signage critical.



To drive traffic – Large, digital signs outside the store effectively communicate promotions to drive traffic into the store or to the website for online ordering. Promoting access to products that may have been out-of-stock during the pandemic, or advertising special promotions and making them visible from the street or parking lot can help drive more traffic.

To optimize the customer experience – Interactive technologies are an ideal tool for providing personalized messages and experiences to customers. Powered with AI and loyalty program apps, small touchscreens at checkout can deliver personalized information to shoppers about loyalty points earned on this visit, the dates of the next sale, or other items they may wish to explore next time they are in store or online.


To reduce environmental impact – The ability to display messages on a large screen greatly enhances retailers' ability to communicate and update critical and ever-changing information without taking the time and resources to print paper signage or banners. This saves time, is more convenient and reduces waste associated with printing, reprinting and disposing of paper signage.
The global pandemic has breathed new life into interactive technologies, which are being used to reduce person-to-person contact, communicate real-time messages and drive omnichannel activity. Explore our interactive technologies or contact us to learn more about how we can help you deploy these valuable technologies across your locations.