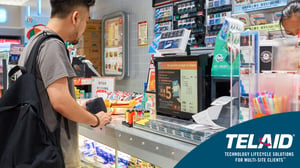 Like the rest of retail, convenience stores (c-stores) are positioned for change in 2021 and beyond.
The time has come for c-stores to embrace new omnichannel models, new technologies and product mixes that meet the needs of shoppers who are visiting neighborhood convenience stores for different reasons than they used to. The decline in travel and local business commuters has resulted in a decline in gas purchases as well as ready-made food items.
On the other hand, more shoppers are visiting their neighborhood convenience store to quickly purchase items in a more grab-and-go fashion than is possible in big box, grocery or other retail establishments. There has also been an uptick in the purchase of cleaning products in c-stores.
As c-stores pivot to deliver value and build customer relationships during and after the pandemic, here are some critical technologies and the role they play in advancing c-store success.
Interactive technologies – Communication is key in today's world and contactless communication is preferred. Interactive technologies including digital signage, audio, and small screens with video content allow c-stores to communicate key messages, build awareness and promote deals.
Frictionless POS – Convenience is a big reason why many shoppers visit c-stores over other retail locations. Frictionless checkout is essential to delivering quick visits, short lines and quick checkout that characterize the sector. As c-stores expand their omnichannel capabilities, flexible, contactless POS solutions will be essential.
Unified physical security – Security is a top-of-mind concern in this sector. By leveraging integrated IP video, access control and perimeter security solutions, convenience stores can help secure the property from vandalism or damage and leverage systems such as live video to feed decision-making in other critical areas.
Retail automation – Temperature controlled package robots or click-and-collect lockers are a great way to maximize resources, while ensuring the speed and convenience of order pick-up for customers. These types of technologies offer shoppers the convenience of 24x7 pick-up.
As you prepare to advance your omnichannel operation, Telaid can provide all the critical technologies along with the ongoing technology lifecycle service and support to meet your business objectives and optimize limited internal staff. Get to know Telaid. For more c-store technology insights, download our resources.