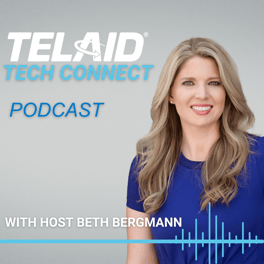 One of my favorite things to do is listen to a good podcast while out on a Sunday afternoon hike or on the road traveling. I can clear my head and immerse myself in another world.
I particularly love podcasts that captivate me, whether it's by way of a suspenseful crime story, a spellbinding speaker or in-depth sports analysis that fills my brain with new ideas and possibilities.
When we talked about starting a podcast at Telaid, at first I wondered what we'd talk about. But it only took me a moment to recall some of the amazing stories from our customers, the pioneering work we do and the mind-boggling pace of change in the industries we serve. Indeed, we have a lot to share.
So after some brainstorming, planning and discussion with our partners, colleagues, leaders and customers, we proudly introduce Telaid Tech Connect!
If…
you're fascinated with trends and consumer behaviors that are transforming businesses
you're interested in how innovative technologies are applied in everyday business settings
you're struggling to stay current with the latest and greatest technologies
you love hearing a good, insightful business conversation with real experts
...then you're going to love Telaid Tech Connect!
Every episode, we'll take a deep dive into industries like retail, quick-serve restaurants, financial services, healthcare, logistics and hospitality, why and how change is happening and what experts expect for the future.
I think this content is going to provide you with insights that will increase your awareness of technology in business and help you make more informed decisions in your own organization.
Telaid Tech Connect is now live! To find all the latest episodes, just follow Telaid Tech Connect on your favorite podcast app. I can't wait to dive into these insightful discussions -- see you soon!