Telaid's field service technicians are critical to our ability to deliver our clients' business projects on time and on budget. But what is unique about Telaid's hybrid model, why is it important, and who are our field service technicians? Jim Winkler, Senior Vice President of Service Delivery at Telaid, answers some key questions about what makes Telaid's field service technicians so unique.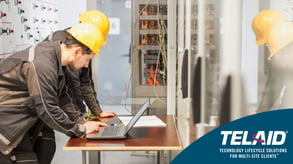 What is Telaid's hybrid workforce and why is it important?
To ensure access to a qualified, geographically disperse labor force, Telaid maintains a field service workforce consisting of both Telaid W-2 employees and qualified third-party contractors. This allows us to maintain costs while simultaneously ensuring qualified technicians are on site for each and every client project.
What makes this network of professionals unique?
At Telaid, every project, business transaction and relationship is framed by our core values. As we "Do the right thing," and work to "Be team player," we believe in having a genuine relationship with our field service technicians. We're asking how we can serve them to make them successful. We ask our trusted technicians for references to other dependable, qualified technicians. We maintain a comprehensive database of available field service technicians, their areas of coverage, their capabilities and complete information in our proprietary cloud-based labor management platform. That platform lets us streamline collaboration with our technicians, from initial engagement in a project or service right through to payment.
How do our field service technicians benefit from their relationship with Telaid?
At Telaid, we truly view outsourced field service technicians as partners. By helping us deliver exceptional customer service and on time, on budget projects, our technicians help Telaid grow. In turn, we also help them grow by providing a steady stream of projects and services, setting them up for success with precision project management, on time delivery of materials in an organized way, and frequent communications. We help each other through unexpected challenges and work toward our mutual success.
If you could say one thing to our field service technicians, what would it be?
Thank you for all the long hours and hard work that you've put in to support Telaid's growth to this point and as we prepare for the years to come! I am honored to have worked with all of our field service technicians. Together, we will continue to grow and deliver outstanding service to our enterprise customers. I can't wait to see what success the future holds!