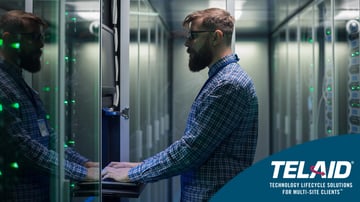 With our eyes fixed on the ever-changing landscape, Telaid spends a great deal of time, energy and resources innovating new solutions to help our clients achieve their business objectives. From our solution design services and CAD design, to comprehensive asset management options that we have released over the years, our offerings constantly evolve in response to our customers' changing needs.
In 2021, we've unveiled a new hardware as a service (HaaS) offering. We surveyed the landscape and came to understand that technologies are aging so quickly that the traditional practice of deploying devices and then retaining them until failure is no longer a viable strategy. Companies realize that technology is the lifeblood of their business and it's also critical to efficiency and operations. Technology today has a shorter lifespan as newer, faster, more powerful generations of devices emerge, leaving customers in need of the latest versions for the purposes of efficiency and optimization.
In response to our customers' needs, this new offering is executed with a 3 – 5 year contract that includes:
Turnkey access to select hardware
Hardware deployment and post-installation testing
Ongoing service and Day 2 support for the duration of the contract
Proactive maintenance to identify potential problems early
Asset management services including back-up stock warehoused at our Technology Solution Center
Repair and replacement of devices under contract
The HaaS solution provides our enterprise customers with complete access to the latest and greatest technologies with the flexibility to upgrade to newer technologies at the end of 3 – 5 years. It also offers the advantage of being able to fully budget for these technologies, anticipating the cost of maintenance and repairs for better budget visibility and fewer costly surprises over the life of the technology. This arrangement also allows customers to offload the burden of daily maintenance and support from their IT teams.
The HaaS offering applies to a range of technologies, from physical security solutions like video and access control, to wireless devices and POS systems. If you're exploring ways to cost effectively deploy the latest technologies, contact us to see how HaaS might work for you.