The revolutionary potential for IoT is growing by leaps and bounds. Artificial intelligence (AI) has the capability to take unimaginable volumes of data and identify trends, flag important anomalies, and predict critical trends. The Technology Association of Georgia's 2018 IoT Converge event showcased the emerging role of IoT in industries across the board, challenges, day-to-day applications and the possibilities that lie ahead for companies of all types.
From the transformation of buildings into complete ecosystems of integrated data, to more effectively handling predictive maintenance in manufacturing, IoT is leaving no industry untouched.
One session of particular interest was a presentation by Chick-Fil-A and how the company is planning to leverage IoT to advance everything from operations to marketing, customer service and back-of-the-house maintenance.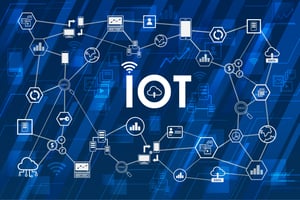 With applications like food safety and speed of service, time is of the essence. Managers need information in real-time to take action to ensure customers are served quickly or that food is moved to safe storage areas to avoid spoilage. Given the highly time-sensitive nature of these applications, the restaurant has to find a way to ensure that the massive volumes of data collected by the IoT sensors is transferred and processed in a timely manner. That means some infrastructure changes.
Edge computing is quickly shifting from an infrastructure concept to a necessity to support effective IoT applications. With a plan for thousands of IoT devices and millions or even billions of MQTT (Message Queuing Telemetry Transport) messages per day, providing information like "hey, the cooler temperature is rising, better close the door now to prevent food spoilage," there will be no room for latency issues or failure. Reliance on connectivity can be an issue, internet services can go down due to unforeseen circumstances like construction work hitting a fiber line. In order to avoid data loss and downtime, Chick-Fil-A is investing in edge computing, an on-site server that receive, process and analyze that data locally, returning immediate red flags, notifications, and critical decision-making data to managers for action that impacts the business. Consider some of the applications:
Food handling safety
IoT sensors could collect data on hand washing frequency and efficacy. Sensors can detect how long hands are washed, if a scrubbing motion is used, and even if soap is used. If employees wash their hands at the sink for an unacceptable amount of time, alerts could be sent telling the manager that the employee did not fully wash her hands. Instantly, the manager can find the employee and request corrective action.
Pest detection
Motion sensors outside and inside the building can be used to track potential pests 24x7. If pests are detected, the sensor can send an automated message to the pest control service that an appointment is needed. Using data from the sensor, the pest detection company can send an automated report about how much time the employee spent on site and the activities that were completed.
Operational improvements
Using a combination of IoT sensors and AI, Chick-Fil-A hopes to improve operations and reduce needless food loss. Sensors on refrigerated food cases can generate alerts if the temperature rises above a given threshold, allowing managers to relocate food to avoid spoilage or potential foodborne illness contamination. Alerts can also be sent if the door is left open, triggering an alarm or alert so that the door can be closed. These types of alerts can result in immense savings and reduced foodborne illness outbreaks.
These applications are just the tip of the iceberg, as IoT has the potential to manage everything from restaurant temperature to food safety and product integrity during transport. Chick-Fil-A is smart to start off by evaluating their infrastructure and how to best handle this volume of data. According to another speaker at the event, 74 percent of IoT initiatives fail. Reasons range from poor planning to insufficient infrastructure and more. It can be complicated and, to ensure success, it's important to spend some time planning and have clear business objectives in mind. If you have not yet considered the applications for IoT in your business, the time is now!