The speed of business compels the acceleration of retail technology adoption. Technology evolution is speeding up exponentially and the impacts on all aspects of retail are notable. Retailers are having difficulties keeping pace with the demands presented by these new technologies.
As an example, according to the 2018 Retail's Digital Crossroads Report from BRP,
48 percent of shoppers said they would be more likely to shop if the retailer offered augmented reality, but only 15 percent of retailers offer this capability.
65 percent of shoppers said they would be more likely to shop if the retailer offered proximity-triggered mobile coupons, but only 8 percent of retailers offer the capabilities.
68 percent of shoppers said they would be more likely to shop if the retailer offered automated returns processing, but only 8 percent of retailers offer this capability.
While limited budgets are part of the equation, IT departments have finite capacity, time, and resources to accomplish these massive, enterprise-wide technology planning and deployment projects. Infrastructure can be another limitation. And while there may be disagreement about the reasons why there is a disparity between demanded and deployed technologies in retail, there is little disagreement that the winners in retail will be those that can successfully use technologies to deliver a superior customer experience, more relevant products and services, and a more convenient omnichannel shopping experience.
Retailers can't afford to fall behind and are in dire need of access to managed services that allow them to quickly, effectively and securely deploy and maintain an unprecedented number of critical retail technologies. What are some criteria that retailers should look for in a managed services provider? Here are some thoughts:
Flexibility – Whether an emerging technology has been reprioritized for immediate deployment, or deployments are coming closer together, there is a need for dependable partner resources to ensure deployments are on time and on budget. Flexibility is defined by the ability to maintain process integrity in the midst of changing project details, which may include timeline, geography, pilot sites or teams in the field. Based on findings from pilot deployments, adjustments may be required. The ability to work with agility to adjust as needed to ensure success is critical.
Scalable – IT teams are not exactly scalable in and of themselves. Saddled with the oversight of all technologies, savvy tech teams outsource administrative tasks, burdensome, time-consuming work that can be turned over to trusted third party resources. From monitoring of intrusion, access control and video, to Level 1 support, to device receipt and inventorying, these tasks are of critical importance, yet extremely draining on the IT team. Ideal providers can undertake these responsibilities and provide consistent service across large or small geographies.
Organized – Failure to organize is an expensive proposition. In too many cases, retailers don't know what technologies they already have that may have been salvaged from a location closing or an acquisition. As a result, they may repurchase equipment that they already have, while perfectly usable technology sits in a back room. Retailers should partner with a resource who can receive, inventory and store devices, then maintain a list of configurations required for each device in every location so that equipment can be staged and configured for plug-and-play installation on site. This kind of organization can result in enormous savings.
Customizable – Retail customer service is not the only area where customization is required. As technologies change every aspect of business and data provides previously inaccessible insights, customization is the very heart of what technology enables and requires of all businesses. Every IT department is unique and every retailer has different needs. Retailers need to reach out to partners that can provide a full range of managed services and allow them to custom-design a package of services to meet their precise needs.
Serving retailers for more than 35 years, at Telaid we pride ourselves on staying ahead of the game when it comes to what's next for retail. Just as our customer needs have changed, so have we changed our managed services to meet the needs of enterprise clients seeking an accelerated pace of technology adoption.
Our Complete Site Service Program offers a full array of technology service and support options with the ability for clients to custom configure packages to meet their specific needs and budget. Just as our retail clients are leveraging technology to personalize offerings to their customers, Telaid offers extremely relevant, customized offerings to our clients. Custom programs are built to meet their unique needs depending on a variety of criteria from their internal resources to budget, from types of technologies, number of locations and specific needs.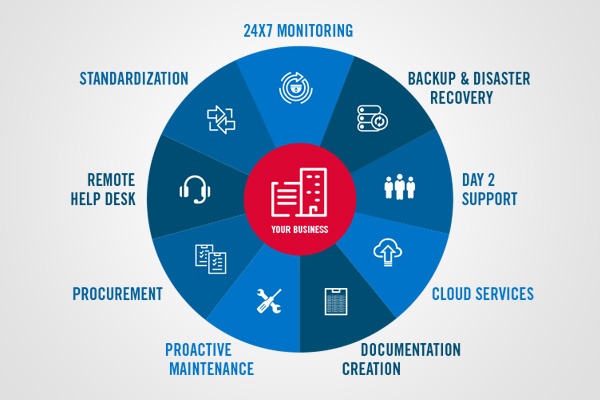 Underpinning all of our services is our Technology Solution Center, the backbone of our entire operation, where we receive, stage, configure, kit and ship all devices so that they are carefully and fully accounted for, prepared in advance so that they are received on site in plug-and-play condition. It is also the site of our repair room. This highly technical, precision operation is critical to our success and on time, on budget deployments and also allows Telaid to take the burden off of our customers with organized, consolidation and ongoing management of devices.
We invite you to explore our managed services and talk to us about your own Complete Site Service Program, configured just for you. If you are missing this kind of modular support, we encourage you to ask questions of your technology partner and internal IT team. It's never been more critical to get the technology service and support you need.