You may take time regularly to clean your house or tidy up your desk at work. But when was the last time you thought about cleaning up your network closet? If you dare not open the door to your network closet for fear of being strangled by an endless tangle of cables and wires, you're not alone. This is the condition of countless IT rooms in otherwise buttoned-up businesses. So why are so many network closets in such an unfathomable state of disarray? Perhaps it's due to the many different people who are in and out of the network closet, adding switches and cables one at a time, slowly contributing to the chaos. Or perhaps it's the result of years of neglect: simply a failure to conduct regular "spring cleaning." Or maybe a sudden rush of technology deployments left no time for tying up cables in neat bundles. No matter how it got that way, the truth is, your messy-ness in this area is likely costing you money.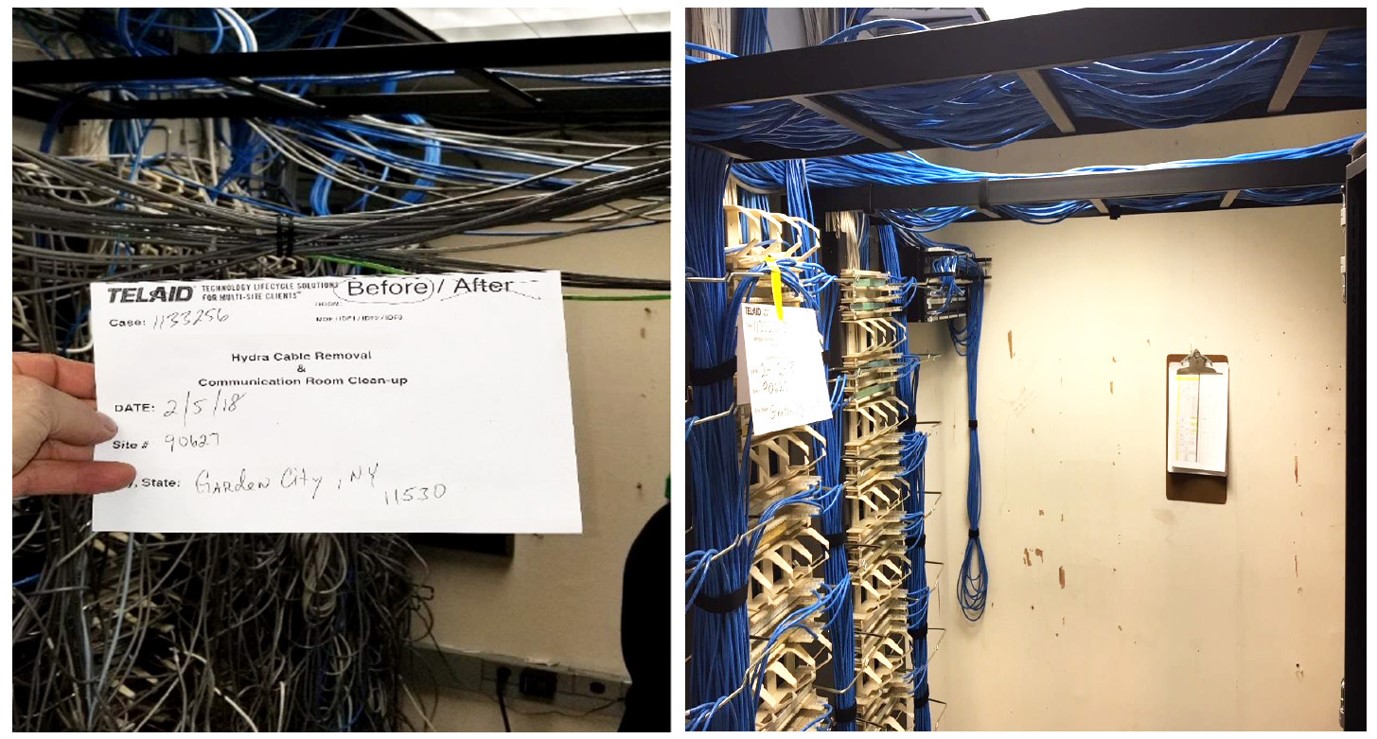 So, without further ado, we present Telaid's list of the top 10 reasons to clean up your network closet.
10) GO OUT WITH THE OLD…
Some equipment may no longer be in use, but it's simply impossible to tell in the cluttered mess.
9) ..AND IN WITH THE NEW
Cleaning up allows you to identify and remove old, inactive equipment and cabling to free space for the new, possibly eliminating the purchase of redundant equipment that may not be needed.
8) SET AN EXPECTATION FOR TECHNICIANS
Technicians are less effective when they are working around a confused mess of cabling and equipment. By keeping an organized area, you can also set the expectation that they need to follow certain standards and expectations of your IT team. In an organized space, technicians are more likely to ask questions about standards and use better installation practices that follow your company's guidelines.
7) PROMOTE NEATNESS
A neat environment encourages others to be neat. Vendors and technicians in a messy network room may fail to deliver their best work, knowing that no one could sort through the tangled mess of equipment. After all: what's one more wire, more or less?
6) SPEED SERVICE TIME
It's nearly impossible for technicians to accurately identify and address technical problems when they can't find the correct equipment or cable lead. Do yourself a favor and speed service time by giving technicians and repair people an organized environment to work in.
5) SAVE TIME
Whether installing new equipment, servicing existing, or determining if the network can support additional technology, an organized set-up significantly reduces time spent making these assessments.
4) EXTEND THE LIFE OF YOUR EQUIPMENT
Equipment can be stressed from lack of support or unorganized cabling. Getting things straight can actually extend the life of your equipment.
3) COOL THINGS OFF
Everyone knows that proper ventilation is critical to keeping network equipment up and running. Messy cabling can envelop equipment and reduce critical ventilation, allowing systems to overheat.
2) SAVE MONEY!!!
Whether paying service technicians by the hour or allocating valuable internal IT resources to combat the maze of wires, time is money and an organized IT closet returns an ROI quicker than you can say "hot mess."
1) BE THE HERO OF YOUR IT TEAM
Aside from feeling great about yourself and the new, clean network closet, you will be the hero of neat-freaks on the IT team and your boss. Turn over a new leaf at work with network cleaning. Remember: not cleaning up your cabling could be costing your organization money every day.
If your IT closet looks anything like the "before" photo here, then it's time for some spring cleaning. Call Telaid to learn how quick and easy it is to get organized.