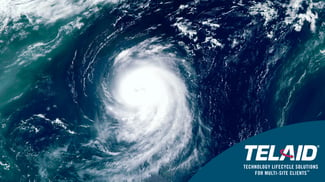 Just when we thought things could not get any stranger than they were in 2020, here comes 2022. Retailers may feel as though they have entered the Bizarro World. Events including a global pandemic, labor shortages, supply chain disruptions, inflation, surging fuel costs and war are, unbelievably, occurring simultaneously. The culmination of these events has caused a "retail cyclone," an environment that is upending the entire retail industry.
This cataclysmic occurrence of the retail cyclone will dramatically alter the retail industry now and forever. Conditions are pressing retailers to perform like never before. The retail cyclone is testing every facet of the retail operation, demanding efficiency, performance, speed and cost effectiveness. From the development of new last mile delivery options to new responses to growing crime and theft instances, to demands for greater supply chain visibility and automation to alleviate labor shortages, retailers are devising new ways to leverage technology to improve performance.
One valuable practice savvy retailers are putting into place is the development of crisis teams within their organizations that are taking a close look internally and really evaluating the greatest challenges, opportunities for improvement and significant vulnerabilities. This practice is leading retailers to new levels of insight and performance.
The end of the story is sure to be a happy one. The industry is wonderfully resilient and this historic time will strengthen the steel of winning retailers. Those who emerge will be stronger, better and more capable than ever.
If you'd like to learn more about the retail cyclone and how it's changing retail, I'd encourage you to listen to a recent Telaid Tech Connect podcast where I speak with host, Beth Bergmann, about this astounding time and the important role of technology in retailers' ability to respond. Retailers are savvy and capable and will end up heroes in these challenging times.