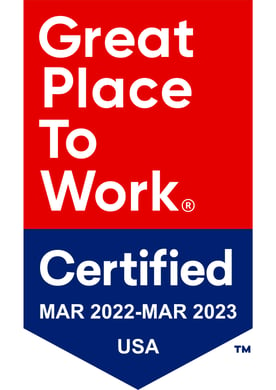 It's an exciting time to work with a technology company and I'm humbled that Telaid employees find Telaid a great place to work. For the third year in a row now, Telaid is proudly Certified™ by Great Place to Work®. This is a great honor that we take very seriously here at Telaid. Without the hard work and dedication of our amazing employees, we could not deliver outstanding service to our customers and continue to grow and thrive over the past 41 years. Our outstanding service earns us repeat business, expanded opportunities and new clients who hear of our dependability and service.
After reviewing the comprehensive results of the Great Place to Work survey that was completed by 235 of our employees, I wanted to share a few of the key responses and why they are important.
91% said they are given a lot of responsibility – We rely on our employees to deliver outstanding service to our customers. In a business as complex as ours, situations and unexpected circumstances present themselves on a daily basis, demanding quick, competent decision-making. We carefully screen and hire the very best talent and then offer training to prepare those employees to excel in their positions. It is their ability and willingness to step in and take action that makes what we do possible. At Telaid, employees are given a lot of responsibility because we believe in you and know you can take intelligent, effective action on behalf of the company and our customers.
90% said "when I look at what we accomplish, I feel a sense of pride" – I am so happy to hear that our employees feel a sense of pride in the work they do! They should! We literally help our customers transform their businesses with technologies. We support industries like retail and financial services that make the economy possible, delivering critical goods and services to consumers. The work we do matters and you play an important part in that.
86% said I feel I make a difference here – In line with the two metrics above, I can assure you that you do make a difference here. No matter what your role is at Telaid, you are essential to the work we do and you help deliver great results for our customers. We are grateful for you and all you do. Next year, I hope that 100% of our employees feel like they make a difference!
I am proud of the Great Places to Work survey results. Certainly the results also revealed areas for improvement. The Senior Leadership Team will leverage that feedback in an attempt to make Telaid an even better place to work over the coming year.
One comment left on the survey made me smile, "Telaid strives for greatness and is on the path to just that." I am so proud to be part of such a great organization and we are so happy that our employees are on board as we blaze a path toward the future. You mean the world to Telaid and to our customers. Thanks for all you do!