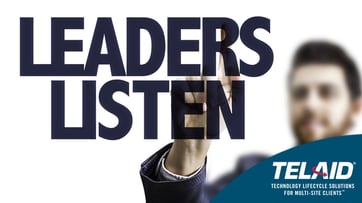 While technologies play a hugely impactful role in transforming the grocery segment, technology was not the exclusive focus of the FMI Asset Protection and Grocery Resilience Conference. There was lots of discussion around interactions, communication and the human side of managing the business. The message was clear: great leaders who communicate effectively don't just talk; they listen.
The opening keynote, presented by Amanda Ripley, proposed that conflict is actually designed to be healthy. Through conflict, we can engage in meaningful discussions and resolve problems. While conflict has become quite binary, she encourages leaders to take a step back to a place where resolving conflict is a productive, growth process.
In a session sponsored by Telaid, Dale Reeves spoke on strategies for effective communication. Whether striving for better communications at work, during an investigation or on a personal level, Reeves emphasized the power of asking questions. By posing questions and listening to the answers, you can gain greater insight into the situation and an appreciation for the position of individuals as well as the situation. By not coming to the table with a pre-meditated agenda, you can actually investigate the situation and build meaningful relationships that help you gain better insights and make more informed decisions.
Both sessions encouraged approaching business problems with conversations. Somehow extensive separation imposed by the pandemic disconnected us in ways that we have not yet fully realized. As a result, it is somewhat challenging and yet critically important to engage in meaningful conversations and interactions with people as we return to in-person engagements. As leaders in businesses, we have the ability to leave a positive impact on others with our interactions.
These sessions also encouraged us to be willing to explore problems from new and different perspectives. By listening and engaging in conversations to gain understanding, we can open our minds to new solutions. The pandemic has ushered in loads of new problems. We need to bring fresh perspectives, insights and conversations around topics to find innovative solutions.
It turns out, being a good leader doesn't mean having all the right answers. In today's world, in particular, it means attentively listening to others to better understand problems and to consider new solutions. Consider what a listening ear can do for your organization.