This week's blog is guest authored by Chris Patsiga, CEO of Telaid, proudly announcing our new facility's grand opening.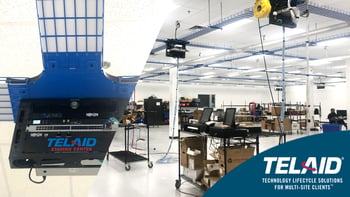 As I walk through the doors of Telaid's new office space, I am proud and humbled by the opportunity that lies before us. We have been blessed with the opportunity to continue to serve our customers and to grow to meet evolving needs in the industries we serve. In an ever-changing environment and amid enormous uncertainty, Telaid is committed to growing and advancing with our customers into the future. This new custom facility will allow us to do that.
You can read the details about our new building in our news section. However, here I'd like to share with you some of my favorite aspects of the new space and why they are significant.
New TSC -

The TSC is the heart of our operation and is increasingly critical to delivering our solution design services and full lifecycle support to our customers who are increasingly overwhelmed with urgent demands and critical projects. Our investment in the TSC positions us to serve our customers with:

greater warehouse capacity for more devices
area to accommodate depot repair and advanced replacement services
secured areas for special projects and devices carrying sensitive data
facilities that support precision staging, configuration, kitting and shipping of devices so that we can achieve zero defect deployments

Technology throughout – Telaid is both a provider and user of innovative technologies. The new facility is outfitted with advanced technologies, from secure Wi-Fi 6 throughout the building, to a state-of-the-art BICSI training center and a technology showroom featuring Cleveron automated package kiosks. Features like Starline busway power systems offer flexible and highly customizable power distribution to meet our changing needs. Single-swipe electronic access control secures the space while providing easy access for authorized employees. These technologies empower our employees with the tools they need to do their jobs and to deliver excellent results.



Graphics that tell our history – The new space is extremely functional, but also aesthetic, offering employees, partners and guests a comfortable, appealing environment. Graphics throughout the building tell the story of Telaid's 40-year history and serve as a great reminder of who we've become and where we're going. Signage touting our core values provides as a constant reminder of the characteristics Telaid strives to exhibit in each and every interaction.
This new space is symbolic of Telaid owners' long-term commitment to offer even better service to our customers, to support our employees with the state-of-the-art tools, and to leverage innovative technologies to deliver greater efficiency and business results. We welcome our partners, customers and employees from around the nation to visit Norcross for a tour. We'll also post a virtual tour on our website later this summer. As we open the doors of this new facility, we also open the door to the future. I can't wait to see the success that lies ahead for Telaid and our customers.