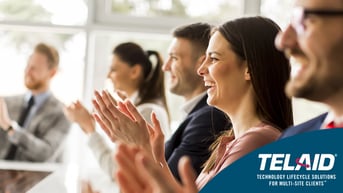 At Telaid we strive to demonstrate a spirit of customer appreciation every day. However, since today officially marks Customer Appreciation Day, we'd like to take a moment to share five reasons why we love and appreciate our customers.
Our customers inspire up – Our customers in retail, financial services and logistics are truly foundational to our way of life. They provide access to critical supplies and financial resources that keep our economies and communities moving. While most of us take this for granted, reliably delivering goods and services 24/7 is no easy task. Never has the importance of these essential businesses been more evident than during the pandemic, when these businesses risked safety and health to provide critical goods and services in challenging conditions. Yes, our customers inspire us. We are grateful for all you do.

We innovate alongside our customers - Our customers leverage cutting-edge technologies to solve complex business challenges and serve their customers. As a result, when we work with our customers, we get to touch innovative technologies and be on the front lines of discovering how those technologies can make life and business better. This is an honor and a privilege and we are proud to collaborate with our customers to design and deploy technology solutions that reshape industries.


We love doing business with our customers – Over the course of time and challenging projects, we get to know our customers quite well. Many Telaid customers have been working with us for years or even decades, and we have developed very close relationships with their teams. Our customers are great people, who often become like friends and family to us.

Our customers are loyal – Our very first customer is still a customer of Telaid today. The technologies we deploy and the assets we manage are very different than they were 40 years ago, but the relationship built on trust is the same. We appreciate our customers' loyalty and we are loyal right back.

Our customers make us better – Multi-site deployments are a complicated endeavor. There are always surprises and unexpected challenges. As we work to overcome obstacles, our interactions with our amazing customers make us smarter, better and more agile. They challenge us to be better and to achieve greater success with each project.
So THANK YOU to all our customers for all you do and all you mean to Telaid. We applaud you here on Customer Appreciation Day!