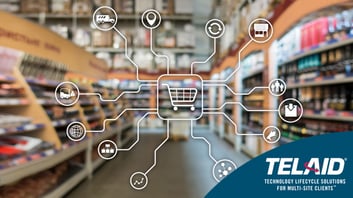 The 31st Annual Retail Technology Survey, Building the Future-Proof Industry, depicts how retailers hurtled into a new world of omnichannel demands, local order fulfillment and mobile payments. Retailers rose to the occasion, but the process was understandably less graceful than it would have been given time to properly plan, stage and deploy over the course of months rather than weeks.
Retailers continue to face many challenges as a result of this dramatic and sudden digital transformation. From change management to outdated infrastructure and new processes to accommodate emerging technologies, retailers are still adjusting to accommodate new operating models and technologies that have been implemented over the course of the last 15 months.
So if you're striving to regain your footing, here are three tips that may help ease the pain of this sudden transformation.
Get your technology assets in order – With investments in so many new technology assets, the time is now to incorporate asset management into your IT strategy if you have not already. Know what you have, where it is and and which OS or software version devices are running. By having this information organized, it's possible to more easily manage, upgrade and maintain assets. You can also reuse, reallocate and make that most of what you've already invested in instead of ordering more equipment when it may not be needed. The ability to report on the status of devices can also inform purchases in the future, ensure proper maintenance or identify problems proactively.

Put proactive maintenance in place – Technologies that support your omnichannel operation are mission-critical by definition. Unexpected downtime is both a reality and detrimental in today's environment where everything - from payment to order processing to inventory tracking - requires technology. Anticipate that technologies will experience outages and require repair. Research and invest in options for a proactive maintenance program that provides you with priority access to on-site and depot repair, advanced replacement and perhaps guaranteed restoration times for the most critical technologies. This will save significant time, hassle and stress when an unexpected event does occur.

Infrastructure assessment – Investment in employees is just as important as investments in new technologies. At the end of the day, your employees must operate these technologies, carry off difficult changes in front of your customers and shoulder much of the stress of unexpected outages, unintended consequences and the like. Invest in training for your employees and listen to their feedback as you undergo this great digital transformation.
The report has some insightful findings in terms of expected IT investments, priorities and budget trends. If you have not reviewed it, it's well worth some time. As you think through your own next steps in transforming your business, consider these three tips to make the process a little easier and more successful. If you need help, call on Telaid and we're happy to lend our expertise and support.