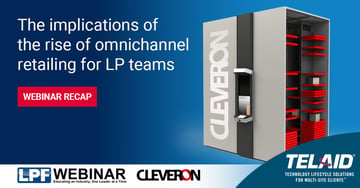 In light of recent changes in consumer behavior and preferences, retailers are exploring different ways to enable the omnichannel shopping experience.
One emerging solution is the automated pick-up kiosk, which enables consumers to place their orders online and then retrieve them from a secure, free-standing kiosk. Last week, the Loss Prevention Foundation hosted a webinar, The implications of the rise of omnichannel retailing for LP teams. Speakers included Meelis Anton, COO of Cleveron, a provider of automated package kiosks, and Mike Korcuba, LP expert at Telaid. The webinar explored loss prevention and security strategies when deploying these kiosks. However, another area of interest was the anticipated and actual return on investment on automated package kiosks.
With virtually endless technologies from which to choose and competing priorities, retailers must carefully consider investments in the technologies they choose to enable omnichannel retailing in the digital age. For retailers that are evaluating options, here is some insight that may be helpful when constructing the business case for automated kiosks.
Labor efficiency – Labor is particularly tight in the current economy. Many retail employees are also experiencing burn-out, as they have been asked to perform new tasks, acquire new skills and work with customers during seismic shifts that took place during the pandemic. Automated pick-up kiosks relieve some of the burden from employees, allowing them to pick and pack orders in volume, load those orders into the kiosk and return to other duties. This minimizes the time required to work with customers one on one during order pick-up and also streamlines order preparation.
Maximize in-store real estate – Many retailers have transformed a section of their retail space into pick-up shelving or a make-shift pre-staging area for BOPIS operations. By using automated pick-up kiosks, retailers can turn their in-store real estate back into usable, sellable space. Orders are densely packed in temperature-controlled kiosks outside the store, freeing space that was previously used for BOPIS staging.
Expanded operational hours - Automated kiosks enable the retailer to deliver customer orders 24x7, even after their store closes. Customers can choose when it is most convenient or safe to retrieve their order, allowing retailers to meet their customers' needs beyond operational hours.
Expansion exploration – For retailers seeking to test market demand in new geographies or communities, the automated kiosk allows them to cost effectively establish a presence without investing in real estate for a new store. All that is needed are a power and internet connection and several spaces in a parking lot. With that, the retailer can establish a branded presence in a new area, efficiently delivering goods to consumers via the kiosk.
If you are exploring solutions to enable more streamlined delivery of orders placed online, automated kiosks may be a helpful solution. For more insights into security and loss prevention considerations and lessons learned, you can watch the recorded webinar here. Or contact Telaid to learn more or to see an online demonstration.