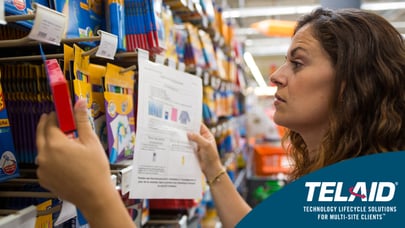 A recent report from KPMG predicts a strong back to school shopping season this year, as schools return to in-person learning or a combination of virtual and in-person. The 2020 back to school season triggered a departure from traditional shopping, reflecting higher demand for electronics, computers and furnishings to support remote learning. Purchases of uniforms and apparel sank to an all-time low. According to the report, 2021 will demonstrate a return to a more traditional mix of school items, but it other ways, this season will demonstrate how many of the changes made in 2020 are here to stay.
Here are three tips to position retailers for a successful back to school season.
Master omnichannel – Consumers' expect to combine online and in-store shopping, BOPIS, curbside and kiosk pick-up. They have tasted the convenience and flexibility of true omnichannel shopping and the demand for it is here to stay. If you've not invested in mobile tools for curbside checkout or automated kiosks to establish remote pick-up locations, the time to do so is now. Don't forget to enable omnichannel exchanges and returns as well.

Leverage interactive – Consumers are accustomed to having information at their fingertips and your in-store experience should offer engaging content, in-depth information and relevant recommendations. They best way to provide this is with interactive technologies. A combination of audio and visual technologies can draw foot traffic into the store and keep shoppers there with engaging content. Touchscreen kiosks can deliver personalized content and recommendations for store loyalty program members, encouraging purchases through discounts and promotions.



Maintain security – With violent crimes surging across the U.S., retailers must offer a safe and secure shopping experience to encourage in-store shopping. The customer's experience with the retailer begins the moment they pull into the parking lot. Fully integrated physical security systems complete with IP cameras, video analytics, access control and intrusion alarms serve as a powerful deterrent to would-be criminals and arm the loss prevention team with tools to address problems prior to escalation.
Retailers have an opportunity to use the back to school shopping season as a time of preparation and piloting prior to the busy holiday shopping season. If you're not sure where to start or need help with rapid deployments, contact Telaid and we'd be happy to assist you.