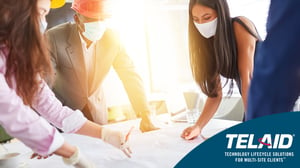 2020 continues to serve up new and unexpected challenges from natural disasters to a global pandemic and civil unrest. Over the last several months, Telaid has proudly collaborated with our clients to ensure they can support their communities at this critical time. The last several months have exercised our agility muscles and tested our resolve to deliver solutions to our customers on time, on budget. Here are some stories from the field that demonstrate the spirit of perseverance and inspire us to push through hard times.
Recovery in Nashville, TN
On March 3, 2020, devastating tornadoes ripped across Tennessee. One grocery store in Nashville was left with serious damage to the store's structure and systems. Our team of technicians dedicated themselves for two weeks to fully restoring in-store technologies. With a long history of serving this particular customer, Telaid was able to identify equipment and configurations for the damaged store and have replacement equipment sent to the location, preconfigured and ready to install. Helping one of our long-standing clients get back on their feet and recover from this devastating emergency was a privilege and a pleasure.
Delivery of innovative solutions during COVID-19
One of Telaid's big box retail customers saw the need to deploy outdoor audio systems to clearly and continually communicate with customers as they walked from the parking lot into the store. In a massive nationwide effort to implement the solution in approximately 1,000 stores, the retailer called on Telaid to assist with on time deployment. With an aggressive timeline, Telaid initiated measures to send newly purchased speakers through Telaid's Technology Solution Center (TSC) for staging, kitting and shipment to sites where they were received by field technicians for install. The systems are used to announce when the store is at capacity, to share safety instructions with shoppers and announce changes to store hours.
Store restoration following civil unrest
In April, an outdoor supply retailer in Bessemer, Alabama was massively damaged. All lines were cut and the store server was spray-painted and destroyed. Resilient and committed to their local community, the retailer reached out to Telaid with a the nearly impossible goal of reopening the store within 24 hours. Telaid sprang into action, dispatching two of their in-house field technicians. The PMO team collaborated with field technicians on site to identify critical equipment that needed to be replaced. They coordinated staging and pre-configuration in Telaid's TSC in Atlanta and prepared for next-day shipment and delivery. Meanwhile, field technicians worked tirelessly to relay low voltage cables and returned the next morning to take delivery of the shipped equipment, deploying, testing and taking it live that day. Telaid was recognized by the retailer at their quarterly meeting for their assistance with the 24-hour recovery of the store.
At Telaid, we've always been prepared to overcome obstacles, deliver in uncertain circumstances and support our customers in any way possible. 2020 is testing our capabilities and we are proud to support our customers in these unprecedented times and grateful to our employees and partners that are committed to serving, even when times are tough.