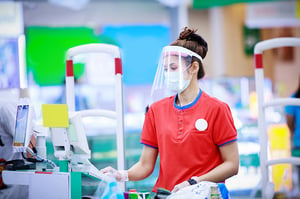 The COVID-19 pandemic has changed nearly everything over the course of 2020 and retail is no exception. For retailers that have shuttered stores, many are preparing to reopen their brick-and-mortar locations as state and local authorities lift stay-at-home orders. However, they are reopening under completely new circumstances, altered consumer behaviors, new expectations and regulations, and perhaps under the watchful eye of nervous employees. Here are some considerations as you prepare for reopening.
New requirements and rules of engagement – As states reopen, various safety guidelines apply, but some of the most common include maintaining occupancy at a maximum of 50% and requiring masks in store for customers as well as employees. Whether trying to comply with local guidelines or simply working to offer the safest environment possible, retailers must architect a revised in-store experience. From enabling social distancing to communicating with customers about the best way to navigate a store safely, retailers must put in place new technologies, rules and practices to offer the safest experience possible.
Changing consumer preferences – In an effort to reduce human contact to prevent disease transmission and access needed products and services from the safety of their homes, consumer behaviors are changing in significant and sudden ways. As an example, curbside pickup at retail stores has surged 208% during the Coronavirus. In many cases, these advanced technologies are shifting from "differentiators" to "entry qualifiers" for effective operation during COVID-19. From frictionless checkout to robust omnichannel capabilities, to precision inventory management, many of these technologies should be prioritized sooner rather than later.
New communications required – In an age when contactless is preferred and things are changing from moment to moment, communication is critical. In a recent survey, 58% of people welcomed communication informing them about changes to the business that could affect them during the crisis. Whether informing shoppers about new social distancing rules or dressing room restrictions, communicating new sanitation guidelines and responsibilities with staff, or reassuring employees that safety is a priority, retailers need to think through and execute clear communications during this critical time of change.
For more ideas as you prepare to reopen, download "Retail's Post-COVID Return: A Reopen Readiness Checklist," which includes a reopening preparedness checklist as well as pinpoints critical technologies that may position you for success in the new normal.