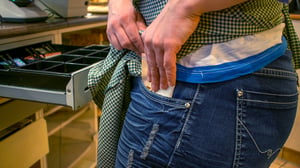 The Loss Prevention Foundation, in conjunction with the University of Cincinnati, hosted a Learning Day event on March 3. The agenda was designed to show the Criminal Justice Majors from the University of Cincinnati that a career in Loss Prevention can be just as rewarding as a career in law enforcement.
Industry professionals shared their insights on asset protection, professional development, security techniques and best practices in loss prevention (LP). Wayne Hoover, CFI and senior partner of Wicklander-Zulawski & Associates, was among the presenters. His presentation on associate theft focused on the art of interviewing store associates to encourage an admission of theft through a non-confrontational approach. According to the 2018 National Retail Security Survey, employee theft accounted for 33.2% of shrink in 2018. LP teams know that their technologies and processes must focus on identifying employee-initiated losses due to customer-less refunds, sweethearting, or theft.
Wayne has conducted thousands of investigations and even mentioned leader of Telaid's Physical Security Practice, Mike Korcuba, who helped combine innovative LP technology with non-confrontational interview methods to get a confession in an investigation several years ago. This session, and a reminder of this particular case, demonstrated that a combination of technology and skilled LP practitioners is required to effectively reduce shrink.
Whether it's pursuing a dishonest employee who has been discreetly stealing over the years, or cracking a tough organized retail crime case that is plaguing the region, LP requires leaders who are creative, savvy, and in-touch with human behaviors. This is in addition to using advanced technologies such as covert cameras, comprehensive reporting and access control, to effectively reduce shrink. Telaid's physical security practice has experts like Mike Korcuba who have worked for years in retail loss prevention and can help you identify a combination of technologies and techniques to effectively tackle shrink.