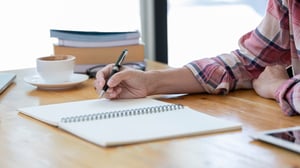 The Technology Association of Georgia 2020 Summit in Atlanta shed some light on the secret to Amazon's success when it comes to constant innovation. Commonly known as "working backwards," innovation at Amazon begins with a press release. That's right: it all starts with one-page press release that details in non-technical language what the offering is, what problem it solves and why it's important.
At first glance, this approach may seem oversimplified, but its beauty is in its simplicity. It provides a single, understandable vision that helps keep projects on track and visionaries aligned with their original concept, even when things get complicated.
This approach is not only useful for technology innovators, but has powerful implications for retailers, restaurants and franchises, as they identify and plan for new technology deployments in their businesses. Here are a few reasons why this approach works:
1. Evaluates the significance of the project
If the driving force behind deploying the technology is not significant enough for a press release, you may want to reconsider. By evaluating the significance of a project through the development of a press release, you can determine if the outcome is meaningful or if, perhaps, you are deploying technology for technology's sake.
2. Explores the benefits
This exercise forces you to clearly state the significance and the benefits of your technology deployment in layman's terms. What are the benefits to your customers? Why should they care? How is it going to allow you to deliver better service to your customers? All good technology deployments should begin with the driving reason – not technology for technology's sake. By outlining the business objective from the start, you can help ensure success of your technology deployment.
3. Identifies when you steer off-course
As you continue down the innovation path and identify challenges that may alter your plan, revisit your press release. If challenges push your vision so far off course that your press release looks nothing like what the actual outcome will be, then it's time to reassess the project's value. This one-page release will help ensure that the project stays on course and works to achieve the business outcomes originally envisioned.
What do you have to lose? There's little reason not to try this approach for your next technology deployment. The cost is a little time and some thought, but it is a powerful step to assessing the significance of your next technology project.