Welcome to Our "Notes from the Road" Series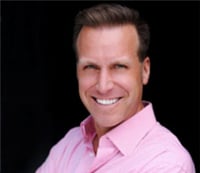 As Visionary & President of Telaid, my passion is helping C-suite executives solve business problems and become industry leaders through best-in-class technology integration.
I spend a lot of my time on the road talking to some of the world's most successful business leaders, and I always come out of those meetings stoked about their commitment to serving their customers at the highest level—with all the tools available to them.
So I've decided to share some occasional Notes from the Road about how top executives are proactively solving problems with technology integration and leading the way in their industry.
Stay tuned!
Learn more about Scott.
__________________________________________________________________________
Your warehouse inventory system doesn't play nicely with your customer ordering software.
Your equipment needs a state-of-the-art upgrade in every location across the country, and you can't afford any downtime.
You want to apply the latest technology to your business model, but no one in your industry has ever done it before.
Let's face it: today every business is a technology business. And with fewer and fewer internal resources to spare, you know you need to hire these problems out to a qualified technology integration partner. But where do you start?
Recently I met with a large, growing, multi-site retail client looking to evolve their strategy for building new stores, along with a complete technology refresh. They knew they needed a new approach, and they were challenging us to rise to the occasion. They wanted us to validate their designs, procure all the technology and infrastructure, and deploy it. Quite frankly, they didn't have the time or energy to manage a partner. In their words, "We need a well-oiled machine."
Yet they also knew the biggest firm wasn't necessarily the best. As they asked me their questions to determine whether Telaid was a good fit, I was impressed: they were taking exactly the right approach.
Here are the questions they asked (first of themselves, and then of us):
Are we willing to engage in a long-term, systematic discovery process?
How do your culture and values align with ours?
How would you describe your company's financial strength?
What is your ownership and leadership model, and your plan for the future?
What is your ability to scale, and how?
Can you support the full lifecycle of our technology infrastructure requirements?
How do you ensure quality in the field?
How flexible and agile are you?
If you're an industry leader, your technology integration provider should be a trusted strategic partner to support your growth for years to come. Stay tuned for more on each of these questions—and the answers that got us to the short list.
---