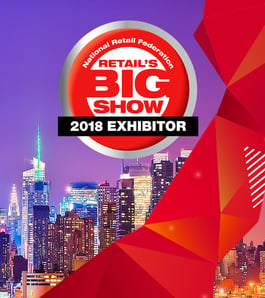 The NRF Big Show 2018 included an impressive display of cutting-edge technologies with live demonstrations that looked like something out of a sci-fi movie. From virtual dressing rooms to robots and AI applications, technology that was merely a vision 5 years ago, is now available, fully-functional and - in some cases – deployed in cutting-edge stores. Yet in many cases, a gap still exists between these technologies and the shopping experience in your local big box, apparel or grocery store. But the vision is headed for reality. It's coming. But how fast? These four take-aways from the NRF Big Show provide some insight into where retailers are with technology adoption and deployment and what to expect in the coming months.
It's time to make the most of data
Having and leveraging data in meaningful ways is no longer optional for retailers. Most retailers have plenty of access to data, but the winners are those that can transform it into actionable information that improves the customer experience, drives supply chain efficiency and streamlines operations. Technologies and systems that collect data must be able to work together in a seamless, truly integrated fashion. Retailers are seeking solutions and selecting technologies that are modular in nature, delivering value on their own while integrating easily with other systems.
Shrinking storefronts
The days of the inventory-carrying stores are quickly becoming a relic of the past, particularly where apparel and specialty retail are concerned. Savvy retailers are transforming traditional stores into shopping "experiences" that deliver value to consumers. In-store technologies increasingly leverage consumers' personal data and AI to proactively deliver ideal merchandise suggestions to each shopper individually, pointing them toward items that meet their personal tastes, preferences and criteria. Technologies like RFID help automate the experience, allowing retailers to identify inventory and have it delivered to the customer the next day.
No sales associate required
From RFID inventory tracking to "grab and go" checkout with digital payment right from your phone, the automated store has arrived. The automated store will streamline the process, reduce wait times, increase convenience, and reduce labor costs for retailers.
Blockchain will link the supply chain together
Blockchain is being used to set up all suppliers in a single, secure ecosystem, bridging together vendors and creating a complete record of inventory from farm or factory to shelf. Touted as the way that retailers will finally bring visibility to their supply chain, the use of a private Blockchain offers comprehensive information about products, their source and other information. This is particularly valuable in the case of perishable products that can be instantly traced back in case of a foodborne illness outbreak.
These and other trends are taking shape in retail today. 2018 will be a year of big changes and will bring more insight, best practices and measurable results that continue to evolve the retail industry of the futurer.