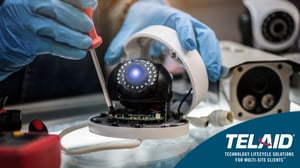 Retailers rely heavily on break/fix contracts to repair critical equipment on the fly, when devices fail, system outages occur or equipment breaks. However, the shift to a more proactive approach with preventative maintenance is reducing downtime, hassle and expense associated with break/fix contracts.
Here's why:
Maintenance in the cloud is easier than ever – The move to the cloud makes it easier and more important than ever to conduct proactive monitoring. Thanks to the cloud, it's possible to conduct maintenance remotely, via a simple web browser, from any place, at any time. Maintenance can be scheduled in advance, conducted remotely and even automated for minimal disruption.
Break/fix is expensive – It's not just the repair of the device itself, but emergency field service trip fees, overnight shipping and other expedite fees. With a stock of pre-configured devices, it's possible to ship a replacement immediately, sending the damaged device back for repair without dispatching emergency field services. This level of preparedness saves money and minimizes downtime.
Line of sight into budget – As budgets get tighter, IT departments need insight into their spending so that they can estimate expenses during their budget cycles. By shifting to a preventative maintenance contract, enterprises can set a budget for maintenance and stick to it, avoiding the frustration of completely unanticipated expenses throughout the year.
Avoid downtime altogether – Best of all, a preventative approach to maintenance helps avoid downtime. With the proliferation of IP technologies, it's easier than ever to monitor device performance on the network from the convenience of a laptop. By monitoring things like latency on the WAN, POS software and changes in network configuration, it's possible to identify "red flags" associated with equipment that is at the brink of failure, so that it can be replaced or repaired prior to causing operational disruption.
Share your previous years' break/fix history and Telaid will customize a preventative maintenance program designed to provide regular assessment and maintenance of your equipment. Make critical failures a thing of the past and maintain your technologies on a much lower, more predictable budget. Learn more about Telaid's complete service and support capabilities or contact us to explore how we can help you reduce downtime with preventative maintenance.