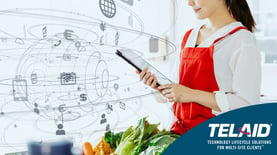 Providing safe, properly stored and handled food to consumers is pivotal to foodservice operations, brand trust, as well as public health and safety. That's why I'm proud to be a part of ComplianceMate, which provides reliable food safety temperature monitoring solutions with real-time alerts using IoT technology.
I recently sat down with Beth Bergmann on the Telaid Tech Connect podcast, to discuss how IoT is helping QSRs, convenience stores, grocers and other retailers - not only ensure food safety - but also reduce shrink, increase efficiency and achieve greater sustainability. Consider some of the applications:
Monitor temperature of refrigeration and freezer units, automatically notifying management when temperatures fall outside a specified range to reduce food loss due to mishandling.
Deploy IoT monitors to identify even small temperature variances early so that hot and cold storage units can be repaired prior to failure, reducing shrink, labor and frustration.
Use data from IoT temperature monitors to provide a documented history of device performance as needed for food safety inspections or to manage equipment warranties.
Digitize compliance checklists to ensure employees are following proper procedure.
Deploy IoT temperature monitors on refrigerated trucks to ensure proper storage of food in transit.
Address energy waste and high-risk activities by identifying instances when employees leave refrigerator doors open.
Conserve valuable human resources by automating the time-consuming, tedious process of manually monitoring the temperature of cold and hot food storage cases.
These are just a few of the many applications for IoT temperature monitoring alone. With the advancement of AI and predictive analytics, use cases for IoT devices in food service will explode. Monitors that collect data continuously will be used to predict equipment failure. AI will help identify specific employees who may need additional training to follow proper food safety protocols. IoT devices will be used across the supply chain to track food from farm to table and ensure it's properly handled at every point along the way.
In the end, we're excited about helping foodservice operators achieve food safety, ensure compliance with state and federal regulations, increase efficiency and advance sustainability. Monitoring cold and hot food storage cases is just the beginning of IoT in foodservice. I look forward to seeing what's next!