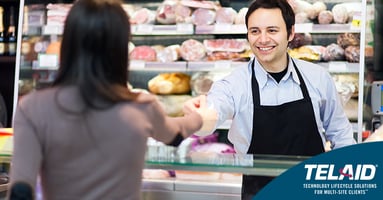 The initial decision to deploy IoT in the deli and bakery facilities at Walmart was made in an effort to streamline repairs and improve efficiency of the facilities management team. Our goal was to address failing equipment more quickly and efficiently. Frustrated with the inefficiency of calls from stores stating, "My rotisserie oven is not working," we are deploying IoT sensors so that we can have access to critical operational data such as "The XX-Brand, 1999 Model TX-5 rotisserie chicken oven in the hot foods area of Atlanta store #123 is failing to reach safe baking temperature." With this more complete information, we can send a technician with the right parts for the right brand and model oven to the right location in the right store more quickly. The goal was to address maintenance work orders with greater speed and efficiency. But once we began deploying IoT devices and collecting data, we quickly realized that the data being generated was valuable to a lot more stakeholders and for more purposes than just speedy repairs.
This realization was the genesis of "Project Ruby." Ruby is an operational dashboard that displays critical information from IoT devices to drive operational and customer service decisions. When fully deployed, IoT dashboards will drive increased customer satisfaction and improved employee efficiency in the deli and bakery departments. Here are some of the use cases:
Associates in the deli area can notify a customer looking for a rotisserie chicken that they will be ready in 10 minutes if they would like to shop in the store and then return for a freshly baked one.
An associate in the bakery can be restocking bread at the counter and notice that they have 15 minutes until the next batch of baked goods needs to be removed from the oven.
The deli manager is notified that someone left the walk-in refrigerator door ajar and the temperature is climbing so they can send someone to close the door before sustaining damage to cold foods.
This project has opened our eyes to the potential for smart stores that leverage IoT beyond either operational or maintenance applications. The vision is to outfit stores with IoT across the board to generate synthesized data that facilitates better facility and store management. Consider some of the context synthesized data provides beyond single-source data.
A sensor on a door can tell you that an exit door was left open. But that information may be even more valuable if it's accompanied by data from the HVAC system that says the heat just turned on and is running at full blast because cold air is flooding in through that open door.
A vestibule door may be knocked off track, a frequent and easily corrected occurrence in stores. Instead of generating a request for service, it may simply notify a store manager so that the problem can be addressed. However, if a glass-break sensor accompanies the off-track notice, a request for repair will be generated along with the store location, door location and size so that the correct glass door can be delivered for installation.
These examples are just the tip of the iceberg when it comes to the potential for IoT in stores. You can learn more about what we're doing at Walmart in this episode of the Telaid Tech Connect podcast. I'm excited about the potential for IoT in retail!