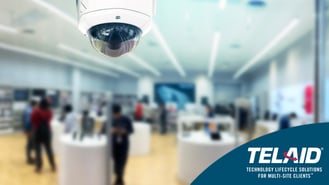 While video is essential to nearly every retail function, from operations to marketing, customer service and loss prevention, cameras are often considered "LP expenses" and do not receive the same attention and IT support as other network devices. For some reason, in many organizations, cameras still fall under capital expenses as opposed to technology operational expenditures. As a result, the expected useful life is eight or more years, whereas other IT technology devices have an expected four-year lifespan. This triggers frustration among IT and LP professionals alike, as video is not managed or maintained like other network devices, generating great expense.
Here are some recommendations to help retailers get maximum performance out of their video solutions.
Reframe your thinking: video is a network device –The dire need for video should not trigger a "widget purchase" response. Increasingly, LP professionals need to think in terms of platform and software standardization decisions when purchasing video technology. Video is part of the IT network and should be evaluated, purchased and maintained just like any other mission-critical network technology. Failure to do so compromises the optimal use and lifetime value of this equipment.
Operational budgets instead of a capital expense – For years, video has been classified as a capital expense. Under that classification, LP teams have attempted to extract life out of cameras for the full depreciation life of seven or more years. However, like any other technology purchase, video should be viewed as an operational expense. Like other IT equipment, the realistic life of IP video is four years.
Shift to proactive maintenance – Proactive maintenance makes a huge difference when it comes to video. Here's why: with devices in stock and pre-staged and configured, it's possible to roll cameras in and out of inventory as they are installed and uninstalled from the network. With move, add, change capabilities, video cameras from closed stores can be received, reconfigured, evaluated, repaired and added back to inventory for reuse. With advanced replacement, retailers experience less down time. Proactive maintenance also allows you to assess repairs more quickly – not waiting weeks for a tech to show up on site. It also allows you to budget for maintenance expenses for the entire year.
It's time to take a new approach to managing your video camera. Telaid can help you evaluate, select and deploy network video solutions that are integrated with your other LP and operational technologies. We can also develop a customized maintenance and support plan that cost effectively optimizes uptime, speeds up repair and proactively maintains your video surveillance equipment. Visit our website to learn more or contact us to start a conversation.