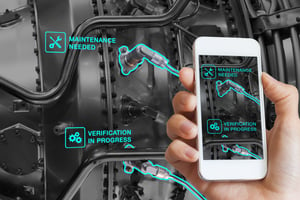 The FutureX show in Atlanta continued to tout the messages we've all been hearing about - the impact of the digital transformation and how it is changing everything from how we're transported to how we learn, to how we shop and live.
Interestingly, the speakers tackled head-on the challenge of how computers and humans will assume new roles. Digitization is coming, and in many applications, computers will be superior to human intellect. So where does that leave the employees? Speakers at FutureX proposed that humans will become augmented employees, better able to perform their jobs with the help of technology. In addition, humans will continue to thrive in capacities where only humans can perform: providing creativity, caring and collaboration. In this world, each employee is optimized with the backing of artificial intelligence and digitization, and human skills are of greater value. Companies that are most successful are those that leverage technology in creative ways to serve customers and deliver experiences.
Painting visions of self-driven cars, drone delivery, education through virtual reality and gamification of shopping, FutureX points the way to a future where technologies converge. This goes beyond integration, where technologies are connected. As an example, interactive digital signage will not only identify individual customers, deliver personalized messaging and incorporate audio/visual technologies, but will also allow order placements and payment, all in a single device.
To keep pace with these changes, there a few things multi-site enterprises can do.
Spend time on the vision– With so many emerging technologies, it can be overwhelming to understand which are most relevant to your business. Keep a list of technologies and prioritize deeper research based on those that will impact your business most. Rely on third party experts to help get you up to speed on the details of these technologies so that you can be informed.
Have a plan for new technologies– Don't deploy technology for technology's sake. Build a business case and a vision for how each technology will deliver a better customer experience and improved efficiency.
Position yourself for success– For those technologies that you do deploy, ensure your infrastructure is sufficient to support it. Also, have a plan prior to deployment for piloting, rollout and ongoing management of the technology to maximize the likelihood of an on time, on budget deployment.
The future is bright, new and exciting. Pioneer the use of technology in your business in ways that ensures your long term viability and success.