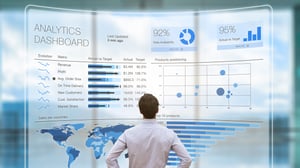 Over the last five years, technology advancements have increased in number and speed, ushering in never-before-seen devices, software and capabilities. One of Telaid's best-of-breed partners, Genetec Inc., has been around since 1997 and has advanced from a supplier of IP video surveillance software to a developer of software and analytics to help customers improve the intelligence, operations and security of their businesses. Committed to delivering data and insights from video, access control and ALPR to make decision-making and action easy, Genetec offers a unified state-of-the-art physical security platform that makes video useful for applications across businesses.
Genetec delivers impressive advancements, new features and additional capabilities in their solutions every year. However, at the Genetec North American Channel Partner event, the discussion centered – not on the latest and greatest features and capabilities – but on market demands and the customer experience.
Just as we are seeing customer experience drive the evolution of retail, services, and so many other industries, it is also driving change among technology providers. Here are some trends and plans that were discussed at the meeting and how they point to the growing focus on the customer experience.
Simplification of interfaces– With analytical power comes complication and user training. Historically, the process of becoming a "power user" of the Genetec platform required days/weeks of training. This unfortunately meant that the powerful information coming out of the Genetec platform could only be accessed by a few trained experts. Increasingly, businesses are demanding platforms that can be accessed by everyday users rather than experts. To make the platform more usable and effective on a day-to-day basis, Genetec is reengineering the interface to increase usability and reduce the need for intensive training and certification. This will ensure better adoption and increased usage.
Discussion of outcomes– The conversation is shifting from features and capabilities of the technology to desired applications and business outcomes. No longer is it about "what the technology can do," but it's more about "what can we get out if it in the business." The discussion of outcomes has both customers and vendors thinking about how the technology is used on a daily basis and the types of data extracted and how that is used to improve the business. These insights will shape the direction of future technology updates.
Provide actionable data on demand– In today's world, decisions happen in a matter of moments rather than days and weeks. Responsiveness is critical. With more analytics and machine learning, Genetec is growing their platform's ability to proactively identify and alert users of events, exceptions and incidents of interest, providing valuable information when and where it's needed most. Seamless integration with other systems makes their solutions even more powerful. From gunshots to customer behaviors, potential dangers and inconsistencies will be flagged for immediate action.
Businesses as a whole are moving to meet the ever-changing demands of customers. Genetec's growing focus on business outcomes is right in alignment with Telaid's mission. We are focused on helping companies achieve their business objectives with technology. As you consider technologies, start with the business case, users and applications in mind to ensure the success of your next technology integration.