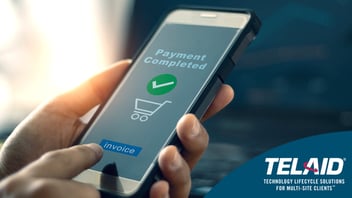 According to the 2021 POS & Customer Engagement Survey Report from Retail Consulting Partners, 30% of retailers plan to replace their POS software this year, up dramatically from 19% in 2020. Another 22% plan to replace their POS hardware in the next 12 months. The POS system plays a critical role in successful omnichannel delivery, customer experience as well as back-end integration with inventory management systems.
The surge in omnichannel shopping coupled with a growing preference for contactless transactions to minimize disease transmission, have pressed retailers to pursue a shift to frictionless, contactless and/or grab-and-go checkout capabilities. But retailers making the transition are embracing the change due to the many benefits of frictionless checkout. Here are 5 of the top benefits retailers are realizing:
Enables omnichannel delivery – Customers can complete and pay for transactions on their mobile device whether they are remote, in the store, or in their vehicle. This makes it easier for retailers to complete transactions, ensure payment and then focus on order fulfillment. It also makes for a consistent experience for customers no matter how they prefer to receive their order.

Improves customer experience – Customers want a simple, efficient and enjoyable shopping experience. With shorter wait times and more efficient checkout, retailers can continue to offer a great customer experience from the moment the shopper enters the store until the time they leave.

Increases inventory accuracy and availability – Through integration with back-end order management, retailers can improve their ability to keep the right products on the shelves at the right time. By streamlining the process of accounting for items that are sold, the POS can trigger notifications to order more product or to stock the shelves. This increases availability, customer satisfaction and even average revenue per customer.

Reduced shrink – When it comes to item scans or key-ins, the fewer employee touches, the more accurate the data. Frictionless POS can virtually eliminate errors, providing precision item purchase tracking, correct pricing and, as a result, reduced shrink due to administrative errors.


Better customer data – The treasure trove of any retail business is access to customer data including purchasing habits, preferences and favorite products. Better customer data enables more effective, personal marketing, increased customer loyalty and potentially higher average spend per visit.
New technologies are enabling the full range of frictionless checkout, from mobile app to grab-and-go. We invite you to explore some of our capabilities and best-of-breed providers at https://www.telaid.com/solutions/point-of-sale/.