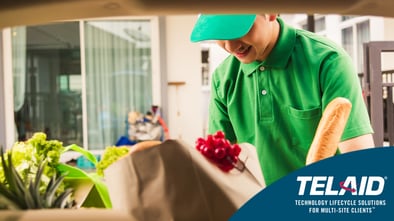 We are only beginning to grasp the extent of change brought on by the global pandemic in the form of massive, unprecedented shifts in consumer behaviors, value propositions and delivery methods. A recent article in Retail Dive explores the challenges retailers are experiencing as they strive to meet a host of new market demands.
In many ways, retailers still face an uphill battle, as omnichannel has now become the norm and it seems we will not return to the state of "normal" that existed prior to the pandemic.
According to a survey from Twilio, the digital transformation in retail has been accelerated by 6 years due to COVID-19.
But take heart, as the article points out, the pain is not going to last forever. There is some sunshine on the horizon. Here are some suggestions of what retailers can do to achieve success in this challenging environment.
Start with solution design – It's impossible to invest in all new technologies simultaneously. If there are still gaps in your omnichannel retailing performance, start with your business objective and then map out some options to achieve that objective. Get creative with hybrid solutions, integration of existing and new systems, or by rethinking your strengths.
Pilot in stores – Even a short pilot can shed light on critical issues. We recommend conducting a pilot, no matter how large or small the project. The results can inform successful deployment in subsequent locations.
Consider alternatives – You don't have to do things the way everyone else does. Whereas some stores may offer their own delivery service, you may wish to partner with a third party. You may select stores to temporarily convert to dark stores or "fulfillment-only centers."
Get support help – If your internal IT team is stretched to the limit, consider accessing a qualified third party to provide day-to-day technology support, monitoring and other services to relieve some of the burden from your team.
Retailers should be proud of what they have accomplished to continue delivering critical products and services to consumers throughout the pandemic. The good news is that their digital transformation is well underway.