Future-proofing your wireless is complicated but possible. Here's how.
Whether planning your very first wireless deployment in a greenfield environment, or upgrading your wireless network for the umpteenth time, one of the best things you can do for yourself and your business is to future-proof your wireless network. Given the speed of technology changes today, it is common for businesses to deploy wireless systems only to find them outdated in a few months. Deploying a wireless network that withstands the test of time requires savvy IT teams that ask lots of questions and leverage extensive capacity planning to avoid common pitfalls. It's a seemingly grueling process, but the results are well worth it.
"Planning" a wireless network deployment is not enough
The applications, services and people running on wireless are ever changing. This kind of volatility makes it extremely difficult to plan well for the wireless capacity required to support your wireless needs today, much less 6 months or two years from now.
Once upon a time, internal IT was singlehandedly responsible for planning and using wireless. But today, everyone - from operations to marketing, from asset protection to your customers - demands wireless access. All of these stakeholders want to jump on the wireless network, expecting to access real-time data and analytics for their particular application.
As a result, planning your wireless network involves a lot more than just installing the recommended number of access points per capita in your location. It also requires more than just planning your wireless needs or users today. Future-proofing your wireless requires envisioning potential future uses for wireless. Consider the following questions:
How many users will have access to wireless?
What applications will be running on wireless today?
Why is wireless being deployed today
Once you have it, what other applications will likely be added?
What will be the primary demand placed on wireless? (For example, high bandwidth usage like streaming video or data access?)
What kind of hot spot traffic will be in the area? (Personal mobile phones, tablets, iPads, etc.)
The goal of future-proofing is to deliberately study applications for wireless today as well as project future usage so that the system is designed to offer adequate capacity. Take the time to think through these issues for a wireless network that meets your needs for longer.
Someone has to manage it... A Lot.
Gone are the days when the single IT manager can simply add wireless network management to his/her job responsibilities. Managing wireless networks includes proactively monitoring security, addressing system outages, and regularly monitoring and optimizing performance with system adjustments.
Every major wireless solution provider offers network management software. However, some are more robust than others. Some require extensive specialized training. Others are easy to use but less powerful, requiring more time and effort to reconfigure access points and make network changes. Constant interference from personal mobile devices in the majority of cases requires monitoring and attention. You may have to reset to baseline or increase access point power to broadcast signal strength. Considering these questions will help you plan for the resources and time that will be required to manage your network.
Evaluate network management software thoroughly. Does it do what you need? Is it easy to manage?
Who will be managing the network and will they be able to do it without extensive training?
How much time does that group/individual have each week to monitor the network?
How much interference do you expect on a regular basis from roving hot spots created by cell phones and other mobile devices?
Security is not "set it and forget it"
Security breaches are an unfortunate reality in today's tech-filled world. With simple apps that can be downloaded on a mobile phone, individuals can get onto your password-protected wireless network quicker and easier than ever before. The minute the manufacturer or the IT group puts out a patch, someone has already written another app. Once someone is connected to your wireless network, they have often breached the firewall and can easily access all your internal shared files and servers.
For this reason, it is imperative to proactively manage the wireless network each and every week at a minimum. These questions will guide your efforts.
How many attacks were launched (people trying to get on with the wrong key)?
What kind of traffic is on the network? Does the volume and/or activity indicate that the network has been breached?
Has your network signal either been manually or self-adjusted to squash interfering strength and therefore now broadcasting far beyond the confines of your building walls?
Security is a constant battle and requires attention. Set it and forget it is not a sufficient strategy.
These pitfalls top the list when designing and deploying a new wireless network. For more tips, get in touch with a wireless integrator at Telaid and ensure that your wireless deployments are spot-on.
Telaid prepares healthcare company's wireless network for a long, healthy life
One healthcare company prepared a plan to deploy wireless in its headquarter offices. However, after a quick check-up, Telaid identified some factors that threatened the long-term health and longevity of the wireless network.
The value of a preventive approach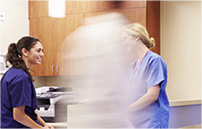 Every healthcare professional knows the value of preventive care. Preventive services, education and screening are all designed to keep patients healthy and active to prevent problems. The result is a healthier person with a better quality of life, and possibly even increased longevity.
Telaid's approach to wireless networks follows exactly the same principles: develop a deliberate, customized plan up-front for wireless and then test to ensure the network's performance long into the future.
After undertaking a multi-million dollar initiative to deploy wireless in patient care clinics, one healthcare company decided to upgrade wireless in its corporate headquarters building as well. Seeing the work that Telaid had done in their clinics across the country, the company turned to Telaid for assistance with their in-office deployment.
The company asked a contingent of their IT team to lead the in-office wireless network planning and deployment effort. The team developed a proposed network, specifying the number and location of access points based on general system guidelines recommended by their wireless solution provider. Initially, they called in the wireless experts at Telaid to discuss deployment logistics and to validate the plan. Understanding the importance of capacity planning for a healthy wireless network today as well as in the future, Telaid started by asking lots of questions.
Capacity planning key to long-term wireless network health
Capacity planning is not to be taken lightly. Many companies' wireless initiatives are driven by a particular group or specific application. But the truth is, with so many devices and apps moving to wireless, even if a wireless network is installed for one specific purpose initially, chances are, everyone will want a ride on the wireless network once it's installed. For this reason, capacity planning is essential to ensuring the wireless network will be capable and effective over the long-term.
In an effort to validate the proposed wireless plan, one of Telaid's wireless experts travelled to the customer's headquarters to meet with the IT team. He began by asking a variety of questions about everything from the building structure, space usage, and the number of users, to predicted usage patterns.
One of many important facts unearthed during the conversation was that the company was planning a major renovation. The office space had previously been configured as many individual, walled offices. The renovation would remove walls, transforming the space into a more open environment with cubicles and open desk space. The resulting space would accommodate a more collaborative environment, as well as up to six times the number of employees in the same space. The Telaid team knew that the current wireless network configuration would not adequately service the growing number of employees.
Another factor that the team had failed to consider was usage. While the primary consideration was for use of employees' work laptops, the team had failed to consider how personal cell phones, iPads and other wireless devices would impact both the demand on the network as well as signal strength. Because mobile devices become roving hot spots, transmitting their own wireless signals, they force the in-house wireless network to compensate by boosting signal strength, possibly creating security hazards outside the building.
Wireless network with increased longevity
After considering the number of users, types of applications, traffic patterns and building configuration, the plan was revised to increase the number of access points from 98 to 183. Had they deployed the original system, Telaid experts estimate that the network would have been overwhelmed in a matter of weeks, resulting in dissatisfaction and frustration, not to mention more money to conduct an upgrade back-to-back with initial deployment.
Thanks to Telaid's comprehensive examination of the wireless network plan, they were able to future-proof the network, setting it up for a long, healthy life.
Make sure your wireless deployments are spot-on. To learn more about Telaid and our capabilities, or to speak with one of our experts, contact us