An accurate asset inventory can save you money, frustration, and even failure down the road.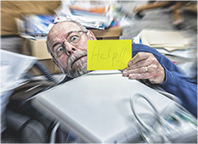 Do you feel overwhelmed at the thought of keeping track of all the types, versions and ages of your IT assets?
You're not alone.
According to a recent survey, 66% of IT managers admit they do not have a completely accurate record of their IT assets.*
Aside from the sheer frustration, there are also risks associated with not knowing what technology you have. Keeping track of your assets through a precision site survey and asset inventory management:
reduces needless expense associated with purchasing duplicate equipment;
positions your company for more successful technology deployments;
provides an accurate record of technology in real time--when you need it most.
Here are the 10 crucial questions our most successful clients ask about their technology assets. How many of the following questions can you accurately answer today?
Is your physical layer infrastructure capable of supporting new technologies that will be deployed over the next 24 months?
Do we have equipment in good condition that is not being used, or that is being removed from one location that could be used in another?
Are we paying for service and repair contracts on devices that are not currently in use?
Is every piece of equipment that is installed in proper working order?
Are there devices using an operating system or software that is no longer supported by the development company?
Is old equipment being retired properly, with destruction of sensitive customer data and secure reverse logistics?
Do we own equipment that is still under warranty that could be repaired or replaced at no cost?
Is there unused/decommissioned hardware taking up valuable rack space and/or power?
Do we know the capacity of our current switch platform?
Are all of our computing platforms up to date with operating system levels, security or performance patches?
Now score yourself to see how you did. If you knew the answers to:
8-10 questions: Green Zone: You're "on top of IT" (pun intended!). Congratulations! If you're curious as to where you could gain leverage, reach out to us for a strategy session to optimize your IT assets.
5-7 questions: Yellow Zone: It's time to round up your assets. Now is the ideal time to consider launching an asset discovery initiative before excessive costs, organization-wide frustration and possibly enterprise failure occur. Reach out to us to discuss our Proven Process.
1-4 questions: Red Zone: You're already likely experiencing significant expense, frustration and possibly failure. Time is of the essence to discuss a Site Survey and Asset Optimization. Reach out to us to get started.
The most fundamental service in the world is one that you never think of--but may desperately need--when it comes time for an audit, upgrade or new deployment.
Join the hundreds of enterprises that trust Telaid to optimize their IT assets. Call to see if you qualify for a free single Site Survey today.