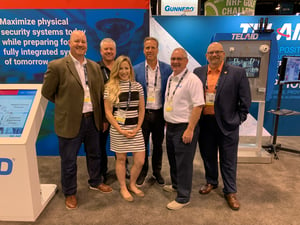 We love the opportunities that trade shows provide us to connect with customers and prospects to discuss their needs and challenges. At NRF Protect in Anaheim, we met with several retail loss prevention (LP) teams and took note of what we heard.
It seems that LP teams are having problems getting their technology projects on the priority list – or even on the radar. Retail IT teams are struggling to keep up with the tidal wave of projects they are faced with as retail undergoes the digital transformation. Forward-thinking retailers are investing in technologies that improve the customer experience and support their efforts to offer true omnichannel shopping. In some cases, IT's project list is backlogged for more than 24 or 36 months, as they vet these technologies, analyze their impact on the network, map the required infrastructure, and consider cybersecurity measures prior to deployment. It's a monumental task that has many IT teams overwhelmed, understaffed, and often frustrated.
The obvious prioritization of CX technologies combined with overtaxed IT teams has LP teams feeling left out in the cold. Their technology priorities are often seen as "last on the list." Unless shrink is raging at unacceptable levels, LP is expected to press on with existing resources.
We found ourselves engaging in many conversations at NRF Protect with LP teams about ways to prioritize their technology needs. We thought some of these strategies were worth sharing in case your organization is experiencing similar challenges.
Talk IT's language– With a heightened awareness of security, LP has a unique understanding of and appreciation for IT's need to deploy technologies in a way that is secure. LP teams can support IT by researching and communicating the implications of their technologies for security, the network and wireless infrastructure. Be prepared to discuss possible solutions with IT. Arm them with the information to make a quicker decision rather than waiting for them to get time to research it themselves.
Partner strategically– Retailers understand that without transforming the CX and delivering in a hyper-competitive environment, they won't be around. That's why all the attention, focus and money is going to technologies that are impacting the customer experience, from online and apps to digital signage to VR. As the old adage goes, "If you can't beat them, join them." When identifying LP technologies, consider the uses and benefits for marketing, merchandising and operations that could simultaneously improve the customer experience and serve LP needs. Getting buy-in from other departments could not only help your technology jump up a few places on the priority list, but could also gain additional funding. As an example, video is an incredibly powerful tool for everything from revealing customer insights to merchandising effectiveness to analyzing queues. Make your case for video with other departments.
Consider OpEx vs. CapEx -

There is a growing acceptance among businesses to shift capital dollars into operational expenses, knowing that the technology can be maintained and upgraded more easily when a deal is structured in this way. By accounting for technology purchases as an operational expense, it's possible to roll – not only the cost of the technology – but also the warranty, maintenance and managed services into one, predictable monthly expense. This can also free additional capital that would have been required up-front, for other projects.

Demonstrate ROI– Money talks. A sure way to get leadership's attention is to demonstrate a compelling ROI. Whether that involves considering benefits beyond LP across the organization or taking time to collect data from other LP professionals in retail to understand their ROI, painting a compelling picture of payback is a great way to get your project prioritized.
Throughout 2019 and beyond, retailers will continue to pursue the digital transformation, and IT teams are not likely to catch up any time soon. LP teams must be strategic about how they prioritize their own technology requests. Take some time to understand what you are really asking for and make allies across the organization.