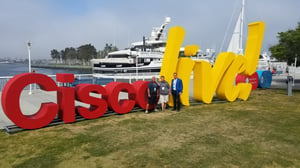 CiscoLive! in San Diego was particularly impressive. This year marked the 30thanniversary of CiscoLive! and even the pre-keynote audio/visual display was worth attending -- and that was just the warm-up to the main event. CiscoLive! clearly conveyed that the future is here. The technologies are ready and waiting and it's going bring big changes to business.
With tons of enriching sessions, here are some notable take-aways that will get you thinking about the technologies that are available today and how they will reshape your business.
Security is top-of-mind
As technologies redefine our world, security must become a top-of-mind priority. The number of devices is growing exponentially, there is more architecture, more applications, more data and more users. Security now encompasses everything from physical security to cybersecurity, data security and privacy. This is a big deal for companies. According to Accenture, there are over 130 large-scale, targeted breaches in the U.S. per year, and that number is growing by 27 percent per year. Ironically, the root of many security challenges, technology, is also a big part of the solution. At the show, we experienced some mind-blowing technologies that will advance security. Multi-factor authentication will include use of biometrics, automatically generated verification codes and real-time device vulnerability scans. Physical security technologies will have advanced capabilities thanks to AI that can automatically identify potential concerns, leverage facial recognition, and flag dangerous activity. The message to IT teams and technology providers is: no matter what stage of planning, deployment or post-deployment you're in, the time to think about security is now. Use technology to help enhance security.
2. Training on steroids
Envision a virtual reality training center where IT professionals literally enter a virtual world where they configure a network, mounting servers on a rack and patching cables and are evaluated in real time based on the safety and security of the network. It's not a concept: we experienced it at the show. Using VR and AR, training will be more powerful, more hands-on, and easier to distribute than ever.
AI tools from Cisco enable field technicians to troubleshoot. Rather than finding a problem and then proceeding down an exhaustive checklist of verifications to identify the cause, the technician can utilize Cisco DNA, Application Centric Infrastructure (ACI) and DevNet tools, describe the problem, and have delivered to them a shortlist of likely problems. They can also request a live healthcheck of the system to quarantine the problem and narrow in on the source of the problem. This reduces troubleshooting time – literally from hours to minutes - making workforces much more productive and effective.
3. Everything goes wireless
5G is a game-changing technology that can accommodate a growing number of wireless devices and the bandwidth needed for computing on the edge. Mobility will reach speeds of over 100 mb/s and will run rich applications like AR, VR and the next generation of IoT devices. Wi-Fi 6 (802.11ax), which was just in development, is now an approved standard. Wireless networks that came prior to Wi-Fi 6 will require new hardware and cabling, but the investment will position the wireless network to handle the future state of "everything" running on wireless. From cameras to VR, from building control systems to lighting and A/V, all things will be managed wirelessly.
As you set your sights on the future state of your business, consider the potential for these technologies to advance your internal capabilities to accommodate, deploy and secure the new technologies you are implementing. If you need help connecting the vision with your business objectives, Telaid can help. We can help you build your technology roadmap that carries you from where your business is today to the business of tomorrow. We are, in turn, grateful to our technology partners like Cisco that help us envision the future before it arrives.